When a distiller lays down a barrel of bourbon or scotch for aging, something strange happens. Some of the precious liquid is lost. It seeps into the wood and evaporates. Our friends in Kentucky and Scotland refer to this lost liquid as "The Angel's Share". As it turns out, when you barrel age beer, the same thing happens. But oh, it is so worth paying the Angels their share: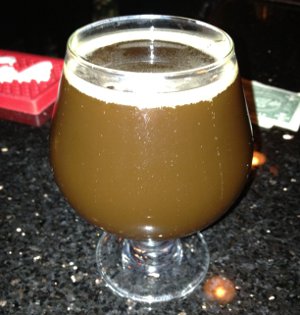 Lost Abbey The Angel's Share – Pours a very dark brown color (I know the picture above looks kinda like chocolate milk, but I didn't realize my new phone has a flash on it, so it looks brighter in the picture than it did whilst drinking) with minimal, quickly disappearing head. Smells strongly of caramel, oak, vanilla and bourbon. Taste is full of rich, sweet malts, maybe some dark fruitiness, that oak and vanilla, with the bourbon coming out in the middle and intensifying through the finish. The booze comes out more in the finish as well, along with a nice warming alcohol feeling. Mouthfeel is full bodied; super rich, almost syrupy but with just the right amount of carbonation. As it warms, the bourbon and booze become even more prominent. This is an outstanding beer, though I wish I had a bottle of it to lay down for a year or two. It's really fantastic right now, but I imagine a slightly mellowed out version of this being near perfect. A-
Beer Nerd Details: 12.5% ABV on tap. Drank out of a snifter on 11/11/11.
It's been a bourbon barrel soaked couple of weeks here at Kaedrin HQ. The above was an unexpected catch at a local beer bar's anniversary celebration, but I've had a few other barrel aged wonders recently, and we're rapidly approaching Dark Wednesday, when Victory will be releasing their Dark Intrigue (basically bourbon barrel aged Storm King stout). They did this last year too, and it sold out rather quickly. Apparently this is the last time they'll be making this, so this is also my last chance to get some. I'm excited.