Yet another Gypsy brewer? Apparently! Jeppe Jarnit-Bjergsø is the man behind Evil Twin, and he is, in fact, the identical twin brother of Mikkel Borg Bjergsø (better known as Mikkeller, probably the most famous Gypsy brewer). Strangely, they haven't collaborated on a beer yet, but perhaps someday… Evil Twin has only recently made its way to the US, but many of the beers have been much sought after. Jeppe doesn't seem to be quite as prolific as his brother, though he seems to be just as experimental (though sometimes those funky experiments don't quite work out so well).
The bottle for this one sez: "You might think this Christmas Beer is a Christmas Beer. But actually it is something so non-Christmassy as a classic Imperial IPA." Then at the bottom of the label, it says "Best before next Xmas." Well, there goes the during and after Christmas part, but hey, at least he's owning up to the weirdness of the beer's name (unlike those tricky Sierra Nevada folks).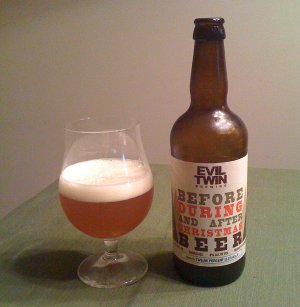 Evil Twin Before, During And After Christmas Beer – Pours a very nice orange color with some yellow peeking through and a finger or so of white, fluffy head. Smells sweet with lots of fruity citrus hop aromas and even a little pine. Taste has a nice, strong sweetness to it, plenty of that pine and citrus in the flavor as well, with the bitterness coming out in the slightly sticky finish and aftertaste. Carbonation is a little lighter than usual, but still appropriate, and you get a nice biting hop character, not to mention some warming alcohol character. Overall, an above average DIPA, certainly something I would try again (perhaps during or after Christmas?)… if I could afford it! A-
Beer Nerd Details: 8% ABV bottled (500 ml). Drank out of a tulip on 9/17/11.
Another day, another great Gypsy beer. And another hit on my wallet. I guess that's bound to happen when a brewer makes small batches and doesn't actually have a brewery (and then we import the beer from Denmark). I'll most likely be keeping my eye out for more Evil Twin, but I don't expect to be going too far out of my way for this stuff…