I don't normally talk about where I work, and I won't go into specifics, but I always wonder who on earth signs up for our emails. We're a retail company, and I guess if you're into some stuff, the emails could be beneficial, but in my personal life, I don't think I've ever actually wanted an email from a retailer (aside from order/shipping confirmations, which are a different beast). Except, of course, for my local beer and liquor stores. So when Pinocchio's sent out their Halloween specials, notably featuring the long absent Dogfish Head 120 Minute IPA, I was all aboard. I now know what it means to be an email subscriber, despite the fact that I've never really cared before (I mean, aren't emails so 1990s?) So yeah, I got to have a long sought-after beer (hopefully I'll be able to get my hands on some bottles that I can age (more on this later)), and Pinocchio's always has a huge selection of great beer in the coolers as well, so I brought home some interesting stuff as well. Let's just call this a beertastic Halloween. But enough babbling, let's get to the good stuff: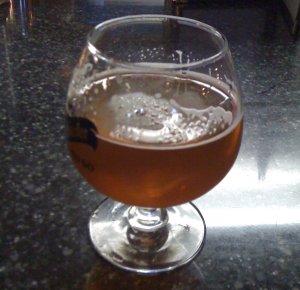 Dogfish Head 120 Minute IPA – Many moons ago, Dogfish Head was among the few breweries shooting for the title of highest ABV beer. Their entry was a whopping 23% ABV IPA that was basically an extension of their 60 and 90 minute series of IPAs. The central conceit behind the series is that they are continually hopped beers. Small amounts of hops are being added to the boil continuously, eventually yielding a large amount of hop character. The 120 is boiled for a full two hours (an hour longer than most beers) and it features a huge amount of hops and malts too. And then the beer is dry hopped and further aged with hops for more aromatic characters. Anyway, as the race to highest ABV beer evar went on and breweries like Brewdog started really pushing the envelope, Dogfish Head bowed out and actually decreased the amount of alcohol in this beer to make it a bit more manageable and well balanced. This was probably for the best, as I can't imagine a higher ABV beer tasting this good.
Pours a mostly clear but dark golden color with minimal head. The aroma is full of citrusy hops, orange and grapefruit notes, just a hint of herbal hop character and alcohol heat. Taste is sweet with a very well matched booziness. It's obviously a strong beer, but I don't know that I would have guessed just how high the alcohol is… There's surprisingly little hoppiness in the taste, with just a hint of bitterness in the finish and aftertaste. The mouthfeel clearly features that alcohol burn character, and yet it's relatively smooth for it's strength. Overally, it's quite good, complex, and well worth seeking out. I'm having trouble picking a rating, as I value the extreme and experimental nature of the beer, but it's not exactly the most delicious beer ever or anything. I'll give it an A-, because I really enjoyed it and would love to get me a 4-6 pack of the stuff to try over the period of a few years.
Beer Nerd Details: 18% ABV on tap. Drank out of a snifter on 10/31/11.
Now, after the beer (and after I ate something), I headed to the back room at Pinocchio's, which has a massive (800+) selection of beer varieties available. A few folks were tasting some of the beers, and I spied an open 750 of the 120 minute. Knowing that I'd love to have a bottle or two of the stuff, I asked the guy behind the counter if he had any for sale and he laughed and pointed at the date on the bottle. It turns out that the bottle was from 2003. The guy kindly poured about an ounce into a shot glass for me to try out (for which I am very grateful), and damn, this is clearly that same beer, but with a much more complex array of flavors. It was too small to really rate, but damn it was good. I really need to find me some bottles of this stuff and age it in my cellar (aka my fridge).
Anyway, before I went to the store, I had myself another beer (with my dinner), this one a more festive Halloween beer: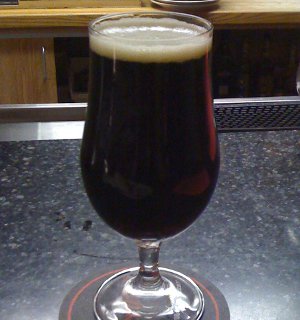 Flying Dog The Fear Imperial Pumpkin Ale – Hey, look, another dark colored pumpkin ale. Very dark brown, almost black color with some amberish highlights and a finger or so of tan head. Light pumpkin pie spices in the nose. Taste is full of sweet malts and a well balanced portion of pumpkin pie spicing (I know lots of folks don't like overly spiced pumpkin beers, but these darker beers really do seem to stand up better to the spicing). Well carbonated, but either my palate was obliterated by the 120 Minute or it was a light bodied beer. I would have expected something with a little more heft to it, but it certainly wasn't bad. It's a really nice beer, but not something that really stands out. B
Beer Nerd Details: 9% ABV on tap. Drank out of a tulip on 10/31/11.
I grabbed a glass of water, finished off my meal, and then headed over to the bottle shop, where I picked up a nice selection of exciting beers, including:
Phew. I've clearly got my work cut out for the next few months (not to mention all the stuff I still have sitting around, including a few cases of homebrew). Too many beers, too little time. Now if you'll excuse me, I have to finish watching Halloween. Speaking of which, have a good Halloween!