Have you ever seen that episode of The Simpsons where Reverend Lovejoy loses the faith and Marge becomes "The Listen Lady"? At one point, while Reverend Lovejoy sits alone and depressed in the church, the stained glass windows in the church come to life and chastise him for failing to inspire his congregation. The joke is that the circumstances of each window are rather gruesome: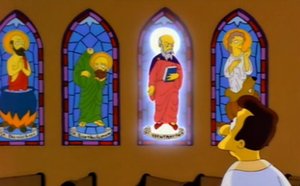 The one on the far left features a man standing in a boiling cauldron, the second one is a man holding his own decapitated head, and the last one is a man being eaten by a lion. This is mean to be parody; making fun of the Christian fascination with martyrs and the violence they endured. And yet anyone who has spent their childhood in Church and other related areas will see that, like a lot of parodies, this one strikes home more than you might suspect. Witness saint Adrian: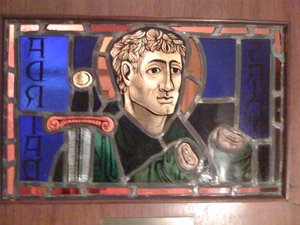 At first it looks kinda normal and then you notice… What's the deal with that sword? Wait, where are his hands? Is that… bone? Yes, apparently St. Adrian was a martyr who had his hands cut off at the wrist. In all honesty, that Simpsons parody isn't really that much of a parody.
Fortunately for the rest of us, Victory's Spring seasonal Maibock, St. Boisterous, does not feature any such macabre imagery on its label, and the beer itself is generally more uplifting.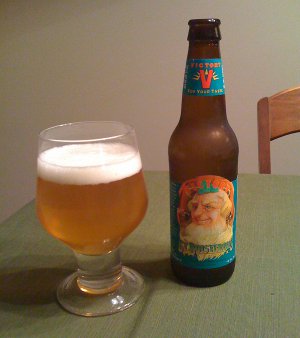 Victory St. Boisterous – Pours a clear golden/yellow color with a finger or two of head. Aroma is dry with a sweet malt character (maybe honey?) and some floral hops as well. There's just a hint of fruitiness apparent. Taste is surprisingly hoppy at the outset, but it doesn't last through the finish, which is sweet and sticky. Surprisingly rich and full bodied for such a light colored beer. The alcohol is more prominent than expected, all throughout the taste, which I guess means that this beer is living up to its boisterous name. Overall, it's still an interesting beer that's reasonably well done. B
Beer Nerd Details: 7.3% ABV bottled (12 oz.) Drank out of a goblet on 7/2/11.
Victory also makes a Doppelbock called St. Victorious, which I'm pretty sure I've had before, but not recently. I'll have to try that one out (it's a Winter seasonal, so I'll have to wait a while).