So, you know single malt Scotch? Yeah, single hop IPAs are nothing like that. What they are, though, is a really fascinating look at one of the key ingredients in beer: hops. The concept is simple. A brewery comes up with a solid IPA recipe, but instead of a mixture of different hops, they use one single hop variety. In this case, Mikkeller brewed a series of 12 beers, each with the same recipe… except for the hops, which change with each beer.
There are typically 3 additions of hops during the brewing process. First comes bittering hops – these are added at the beginning of the process. Boiling these hops for about 60 minutes will release the alpha acids contained in hops, which results in the bitterness in beer. Alas, such a long time boiling also destroys most flavor and aroma from the hops, hence the next 2 additions: Next are taste hops, which are typically added about 45 minutes into the boil and impart a completely different character to the beer's taste (the 15 minutes of boiling time is not long enough to release alpha acids, but it's just right for imparting various fruity, floral, etc… flavors to the beer). Finally, there are aroma hops, which are added near the end of the boil (typically around 5-2 minutes remaining) and impart the proper hoppy smells. There are, of course, lots of other ways to do it (continuously hopped beers, beers with an additional dry hopping step, styles that only take one or two hop additions, and so on), but the above is the most common process.
Hops are fantastically variable when it comes to bitterness, taste, and aroma, so for hoppy styles like an IPA, brewers will combine those various characteristics to create something unique. Some hops have lots of alpha acids and are thus great for bittering, but they're also lacking strong flavors or aromas. Some hops have great flavor and aroma, but low alpha acids. Some hops are ideal for only one piece of the puzzle. Other hops can be used for everything. If you're brewing an IPA, you might grab that high alpha acid hop for bitterness, but use a different hop for flavor/aroma (since those hops aren't boiling long enough, the alpha acids – whether high or low – don't matter much). And so on. The neat thing about a single hop beer is that you can get a really good idea what characteristics that hop imparts on a beer, and thus you can start picking them out in other beers. Of course, I'm only having 3 varieties tonight, and 2 of them ended up being somewhat similar, but still, it's a fun exercise (and these 3 were all great).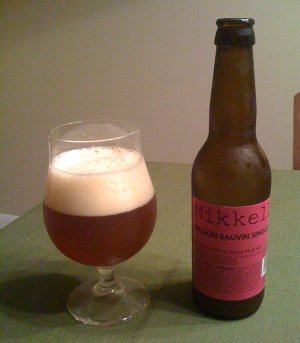 Mikkeller Nelson Sauvin Single Hop IPA – Apparently a New Zealand hop that doesn't get much play in the US, but from what I've tasted tonight, it would match well with the standard west coast US hop profile. Pours a dark amber, almost brown color with lots of fluffy head and tons of lacing as I drink. Smells citrusy sweet, maybe pineapple or grape, and just a hint of toffee. In other words, fantastic aroma. The taste is a little more straightforward, much less of the citrus/pineapple, bitterness taking more of a center stage here, but it ends up being a well executed IPA. The mouthfeel is also pretty standard stuff, but it works. B
Beer Nerd Details: 6.9% ABV bottled (11.2 oz). Drank from a tulip glass on 6/18/11. Bottle cap had "23/12/11" on it – perhaps a drink by date?
Mikkeller Simcoe Single Hop IPA – Simcoe is an American variety (relatively new, and it's even trademarked), often described as a souped-up Cascade hop, it's got higher alpha acids and very strong flavor/aroma characteristics. Interestingly, I've already had at least one other single hop Simcoe beer, that being Weyerbacher's excellent Double Simcoe IPA. This Mikkeller version pours a lighter color than the Nelson Sauvin, but with that same big fluffy head and lacing. Smells sweeter, but less citrusy and more piney. Again, maybe a little toffee. Also a fantastic aroma. The taste on this is more complex though. That pine and slight citrus from the nose are present in the taste, and the bitterness is better matched to the rest of the beer (either that, or my palate has adjusted – certainly a possibility). Mouthfeel is standard IPA stuff, like the Nelson, but overall, this beer seems to fit together better. A-
Beer Nerd Details: 6.9% ABV bottled (11.2 oz). Drank from a tulip glass on 6/18/11. Bottle cap had "5161010" on it – no idea what that means, and it's a different format from the other two…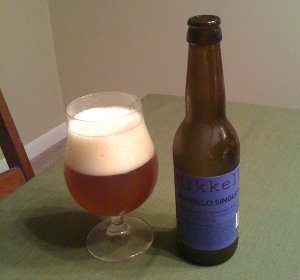 Mikkeller Amarillo Single Hop IPA – Another relatively recent American discovery (also trademarked!), this one seems related to the big C's of American hops – Cascade, Centennial, and Columbus. Not as high in the AA as Simcoe, this one is still pretty high and apparently makes a great bittering hop. It became so popular in the US that there seemed to be a bit of a backlash a while ago, but that's how this stuff goes (I expect a similar backlash to Simcoe in the near future). Pours a similar dark amber color with lots of fluffy head and lacing. Smells strongly of caramel and maybe toffee, with a bit of citrus peeking through. Taste is also filled with caramel and toffee – it's delicious, really. Some citrus too. The bitterness lingers in the finish a bit. It's somewhat more dry than the other versions, and the mouthfeel is maybe a bit fuller (but still medium bodied). Overall, an excellent beer, my favorite of the night. Interestingly, from what folks say about the flavor of Amarillo, I'm not sure this one really strongly shows off the flavor/aroma characteristics, but perhaps it just matches really well with the single hop recipe, accentuating the caramel/toffee flavors (which were present in all three beers, but only really prominent in this one). Whatever the case, this one is a winner. A
Beer Nerd Details: 6.9% ABV bottled (11.2 oz). Drank from a tulip glass on 6/18/11. Bottle cap had "04/11/11" on it – again, perhaps a drink by date?
Like a lot of Mikkeller beers, these are sometimes outrageously overpriced (I got mine for around $6 each, which is pricey, but a lot less than $10-$12 each, which I've heard people complain about), but lucky for you, Mikkeller isn't the only one playing with single hops. Heck, even Sam Adams released a case of their Latitude IPA with 5 single hop beers (and the original Latitude, which uses a combination of all 5). Unfortunately, Sam has never been particularly well known for their IPAs… but then, I've not had any of those, so I shouldn't talk. I do think it would be an interesting experience to try them though, and from the above, it does seem instructive.