According to Oskar Blues website, Gordon Knight was a "Colorado craft beer pioneer and Vietnam vet who died fighting a 2002 wild fire outside of our Lyons hometown." By all accounts, this guy was a saint, and Oskar Blues founder Dale Katechis felt honored to know the man, so he brewed a beer in Gordon's name to honor his memory. It was called, simply enough, "Gordon" (read more details about the man and the beer)
Enter Gordon Biersch, a chain of brewpubs that had their own thoughts on honoring Mr. Knight's memory: The sent Oskar Blues a cease and desist order! This was probably the correct thing to do from a legal standpoint – trademark holders must defend their trademark or else they might lose it – but I'll be damned if it isn't the dumbest PR move they could have possibly made. Of course no one knows what went on behind closed doors (neither Oskar Blues or Gordon Biersch have said anything beyond the obvious), but it sure seems like there could have been a better way to handle this sort of thing. It's one thing when two brewers have conflicting interests (though even then, better brewers seem to be able to work things out well enough), but in the case of a beer dedicated to all-American hero Gordon Knight, it just seems silly.
Fortunately, the creative folks at Oskar Blues came up with a clever solution: their new name for the brew is G'Knight. I hate to admit it, but it's almost an improvement. This was all happening at the beginning of the year, and lucky me, I had picked up a couple 4 packs of the beer that still had the Gordon branding: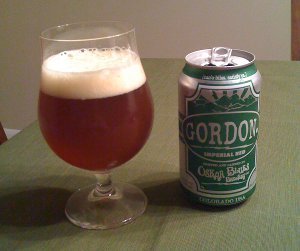 Oskar Blues Gordon – Interestingly, the can calls this an "Imperial Red" ale, while Beer Advocate calls it a Double IPA. After tasting it, I have to say that it certainly feels a lot like something from the IPA family, but then again, I don't know much about Reds… Well, whatever the classification, onto the beer itself: Pours a dark amber color with a couple fingers of head that leave lacing as I drink. Smells strongly of citrus and pine, very sweet. There could be what beer nerds call "resin" in the aroma as well. It's a really nice aroma. Taste is very sweet as well, with a well matched bitterness in the finish. It's a very smooth drink. Well carbonated, but as it says on the can, it's "sticky". Not sure if that's the alcohol or residual sugars (or both), but it actually makes for quite an interesting beer. Overall, this might actually be my favorite Oskar Blues beer yet… A-
Beer Nerd Details: 8.7% ABV canned (12 oz.) Drank out of a tulip glass on 6/19/11. 60 IBUs.
Oskar Blues continues to impress. I've only had a few of their beers, but they're all excellent examples of whatever style they're tackling. Next up, the monster stout, Ten Fidy (I've already had a few of these, and they're great). Actually, I forgot until now, but I've mentioned both Gordon and Ten Fidy before in a Beer Club post. In any case, here's to Gordon Knight. I wish every beer had a story as noble as his… (hat tip to the Aleheads for the whole legal history background)