Before tonight, I have a vague inkling of what Sierra Nevada Beer Camp was – a sorta Willy Wonka-esque contest with the prize being a tour of their brewery, along with a chance to brew your own beer (collaborating with the other winners and the Sierra Nevada staff). Apparently you win by entering a creative video explaining why Sierra Nevada should pick you to attend – so I would never win! And until now, I was pretty sure I'd never actually get to taste any of these beers either, but imagine my luck: on the same night I got my hands on Pliny the Elder, I spied several Beer Camp beers on tap. Most excellent: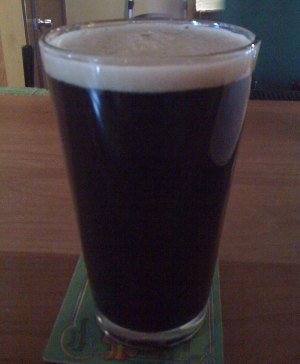 Sierra Nevada ExPortation – So Beer Camp #25 was a Baltic Porter style beer brewed in honor of Philly Beer week by some Philly beer geeks who won a spot a Beer Camp. It was called Philadelphia ExPorter. Now I'm not sure what genius (not being sarcastic here, whoever had this idea is genius) is responsible, but someone had a brilliant idea: Hey, let's take this Baltic Porter over to Russian River and have them age it in some Pinot Noir barrels. Fuck. Yes. It pours a nice opaque black color with a finger of tan head. The smell is outright twangy. The funk almost, but not quite, overwhelms the typical roasty aromas. In other words, it's fantastic. The taste has a similar profile: funky sourness almost, but not quite, overwhelming roasty Porter flavors. Relatively full bodied, but a smooth and easy to drink mouthfeel. The thing that's most amazing here is that, well, I'm not a huge fan of porters, nor have I truly acquired a taste for sour beers. And yet, this beer is almost perfect for me. It's like the two styles cancel out the things I don't like, and amplify the things I do. Amazing. And keep in mind that I had just drank a glass of Pliny the Elder, so the bar was set pretty high here. The only bad thing about this beer is that I will most likely never get the chance to drink it again (unless I head back over to that bar in the next couple days – certainly a possibility). A
Beer Nerd Details: 6.3% ABV on tap. Drank out of a pint glass on 6/23/11.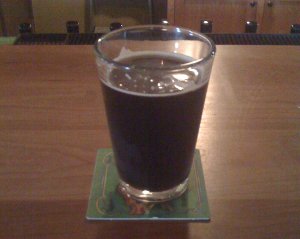 Sierra Nevada Beer Camp #48: Hop Smack – This one has a less clear provenance. It's not even listed on the Beer Camp site, nor does it appear on Beer Advocate. I did find the RateBeer page, but it only has one review! Basically, it's one of them American Black Ales (or whatever the hell you call them)… actually, it said it was a Double American Black Ale. My experience with the style is limited, but since ExPortation was so awesome, and since I was unlikely to ever even see this again, I gave it a shot. It pours a very dark brown, almost black color with a finger of head. Smells surprisingly hoppy – almost no roastiness getting through to the nose. The taste is almost wholly like a DIPA. Sweet, hoppy, and bitter. At first, no roastiness at all was apparent – if you blindfolded me and made me taste, I probably would not have guessed that it was an American black ale. As it warmed up and I got to the bottom of the glass, I got the faintest hint of roastiness out of the beer, but it wasn't much. Now, don't get me wrong, it's not a terrible beer or anything, it just doesn't seem like a particularly good take on the style. That, or my palate was obliterated by the likes of Pliny and ExPortation (both very strongly flavored beers). I'll give it a B-, as I was disappointed, but I suppose others might find more to like.
Beer Nerd Details: 8.1% ABV on tap. Drank out of a half-pint glass on 6/23/11.
There was another Beer Camp beer on tap, but it seemed like a plain old Pale Ale. Don't get me wrong, I would have tried it, but after having a DIPA, a strong sour beer, and a Double ABA, I think that would have paled in comparison (pun intended!)