Yeah, I've been a bit of a sucker for Holiday ales this year, probably because I love a good Belgian Strong Dark Ale, of which there are many Holiday variations. As such, I find myself playing Belgian Roulette, picking up beers based solely on the fact that they're from Belgium and have pretty holiday pictures on the label. Last night, after my Samichlaus adventure, I had a couple of other beers: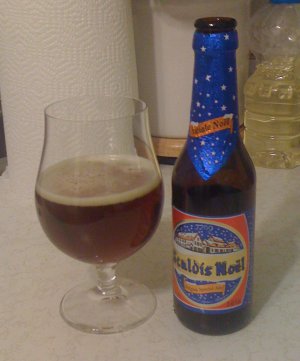 Scaldis Noël: I saw this tiny little bottle with the fancy foil wrapping at the store and thought it might be a good idea to play some Belgian Roulette. The bottle only contains about 8.5 ounces, which is quite the odd size for a bottle, but then, it also comes in at a hefty 12% ABV, so I'm actually glad it wasn't too large. Pours a nice dark amber color with minimal head. Smells a bit boozy, and tastes that way too. It's sweeter than the Samichlaus and maybe a bit more carbonated, but the flavor isn't as complex. Indeed, I didn't really connect with this beer all that much. It's certainly not bad, but it reminded me a bit of how I felt about Mad Elf, though at least I had the small bottle around this time. B-
Beer Nerd Details: 12% ABV bottled (250 ml). Drank from a tulip glass.
Between beers, I cleansed my palate with a single cashew.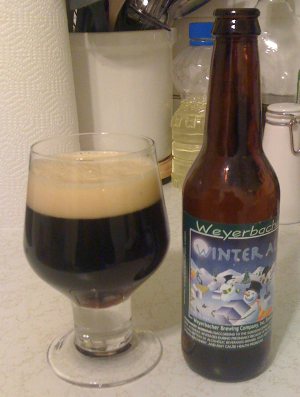 Weyerbacher Winter Ale: Not a Belgian, but I picked up a sixer of this and gave a few away to my beer club homies, saving a couple for myself. Pours a clear dark brown color, with about a finger of head that leaves some minimal lacing as I drink. Smells of roasted malts and maybe a bit of spruce. Tastes like it smells, with a dry roastiness coming through strongly, but the spices seem a bit lost. Mouthfeel is good, with solid carbonation and good drinkability. I'm not terribly familiar with Weyerbacher, but I was expecting something a lot stronger and more assertive than this. Instead, I got a pretty decent session beer (technically just a hair stronger than most session beers, but I think it would work fine) and there's nothing really wrong with that… It actually reminded me of a less complex 2010 Anchor Christmas Ale (which makes a bit of sense, as they're both classified as "Winter Warmers"). Not a bad beer by any stretch of the imagination, but I would have liked a bit more complexity (it probably didn't help that I had had two relatively intense monsters before cracking this one open, but still). B
Beer Nerd Details: 5.6% ABV bottled (12 oz). Drank from a goblet.
Well, I've nearly exhausted my supply of holiday seasonals, but look for a few more posts before the holiday, and apparently one New Years beer as well (I'm excited for that one, which I totally lucked into without even realizing it – keeping this one a secret for now).