I've never really been a big fan of Stouts, but I've recently started trying a few, just to get a better handle on the style and have found them mostly enjoyable, though still not exactly my favorite style. Victory brewing is right around the corner from me, so it's only natural for me to check out their year-round stout: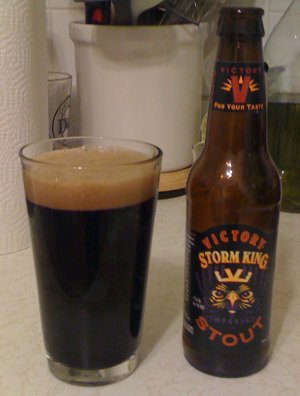 Victory Storm King Stout: Well, this is unlike any other stout I've ever tried, mostly due to it's hoppy, bitter character. Pours a black color with a brown head. The taste starts with a roasty malt bitterness that eventually gives way to a more hoppy bitterness, making for an unusual stout (for me, at least). It's much more hoppy than I'm used to for stouts, and while there's a pretty good balance of flavor here, the bitterness remains its real defining characteristic. It's almost like a dark version of an IPA (adding roasted flavors to the traditional crisp, bitter IPA style) rather than a straightforward stout. Relatively easy drinkability, which is a surprise given the high alcohol content. I enjoyed it, but it's not something I'm going to go out of my way for. B
Beer Nerd Details: 9.10% ABV bottled (12 oz). Drank from a pint glass.
My beer club met earlier this week at a local pizza place that happens to have a fantastic beer selection, and one of our discoveries was the Victory Dark Devil. The Dark Devil is basically a combination of the Storm King Stout with Victory's famous Hop Devil, and boy is it a fantastic match. It looks almost exactly like a normal Storm King, but the taste is more complex and flavorful. The Storm King itself already felt like a Hop Devil with more roasted malts, but when you add Hop Devil, you get something a little less biting and a little more flavorful. The Hop Devil has a more floral character, and that mixes really well with the Storm King. Apparently there's a style of beer emerging lately that's referred to as Black IPA, India Black Ale, or Cascadian Dark Ale, which is basically the combination of the IPA with the dark, roasted flavors of a stout. If the original Storm King doesn't count, then this combination surely would… If it's something you can find, try it out (haven't tried making this from the bottle, but I imagine it would work well there too).