Another duo of India Pale Ales. Sometimes IPAs can taste a bit… samey, but the beers in this post (and the previous double feature), are quite distinct and flavorful. I drank these as I watched a double feature of She's Out of My League and Monsters, seemingly disparate movies that had some surprising similarities. Sure, one's a dumb-fun comedy and the other is ostensibly a sci-fi horror film, but they both seem pretty narrowly focused on the romantic relationship at their core. This was expected for League, but surprising for Monsters, though ultimately the post-mumblecore improvisation yields some uninspired dialogue (but there's a pretty great climax to the film). So while I found the movies surprisingly similar, it seems that IPAs are surprising me with how different they can be: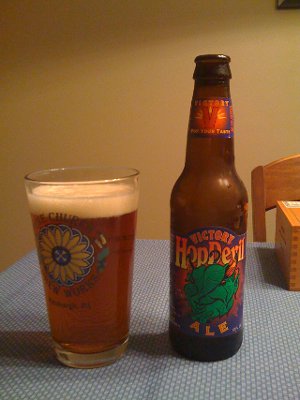 Victory Hopdevil Ale – Another local favorite, I've had many a Hopdevil over the years. Pours a nice dark orange/amber, with a mostly clear appearance. A small finger of head. Smell is of floral hops, a delicious bitterness throughout the entire taste, from start to finish. Powerful, but not overpowering. Good carbonation and medium body… You wouldn't think it would be so smooth, but it's compulsively drinkable. I could (and have) drink these all night. A-
Beer Nerd Details: 6.7% ABV bottled (12 oz). Drank out of a pint glass.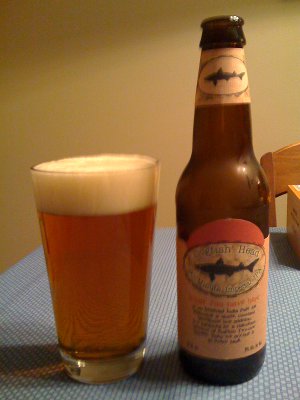 Dogfish Head 90 Minute Imperial IPA – One of the great things about Dogfish Head is that every one of their beers has a story behind it. This beer was their first continually hopped ale, meaning that instead of adding bittering hops to the wort at the beginning of the boil (later adding taste and aromatic hops), they add hops continuously throughout the entire boil, a little bit at a time. To aid them in this, they used that stupid vibrating football game – they set it up above their boil, threw a bunch of hops on it, and as the field vibrated, the hops gradually fell off the board and into the pot. (This method was apparently abandoned for obvious safety reasons, and more specialized hardware created for their larger scale operations). A bit lighter in color than the Hopdevil, but a perfect head, and hoppy aroma with some more complex citrus and floral notes. A more roasty malt flavor, perhaps even a bit less bitter than the hopdevil. A more complex taste, with a nice lingering bitterness that cuts the alcohol well. Still, given that high alcohol content, I don' t know that I'd want to drink a bunch of these at once (like I could with Hopdevil), but on the other hand, it's a big flavorful hop bomb that's tough to beat. A
Beer Nerd Details: 9.0% ABV bottled (12 oz). Drank out of a pint glass.
Another hard to beat pair of IPAs, though somehow, I'm doubting that this will be the last of the great IPAs I review on this blog.