On the first Friday of every month, there's a beer blog roundup called The Sessions. Started by Stan Hieronymus and hosted by a rotating group of bloggers, each Session has a chosen topic, and this month's is being hosted by BeerTasters.ca and covers the general topic of Wheat Beers:
Feel free to take this topic in any direction you like, specific reviews, historical information, or any other twist you'd like to use. Wheat beers are a pretty wide topic and actually cover German style Weizen, Heffe Weizen, etc. along with Belgian style Witbier and even Flavoured Wheat beers.

There are very few guidelines here, just have some fun drinking Wheat Beers in the fall instead of the summer.
So there. I'm no expert on the style, but I've had plenty of wheat beers over the years. One of the reasons I wanted to start this blog was so that I'd gain a better understanding of beer, and while I've had a few great wheat beers lately (notably, Unibroue's Blanche De Chambly, a great beer I didn't even realize was a wheat beer, and Dogfish Head's Namaste, which is also pretty good, in a more traditional wheat beery way), I've found that having to write about beer makes me think differently about beer. While I've been drinking lots of craft beer over the past couple of years, I've only been blogging about it for a few weeks, so I'm not sure if I can trust my memory on the beers I just mentioned. So tonight I tried out a semi-local Hefeweizen: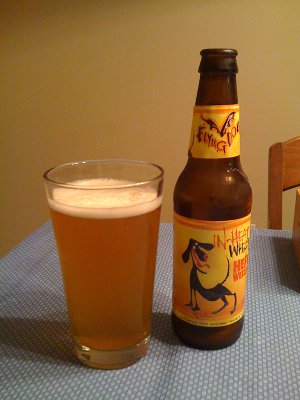 Flying Dog In-Heat Wheat – I've had several Flying Dog beers, while they're eminently drinkable, they're rarely exceptional (the one exception might be the Raging Bitch IPA, which was pretty great). This shouldn't really matter, but Flying Dog also has amazing labels on their bottles. Apparently the owner of Flying Dog was good friends with Hunter S. Thompson, and through that connection came artist Ralph Steadman. He's got a distinctive art style, and the labels on all of Flying Dog's beers are awesome. Anyway, I found myself in a beer distributer the other day, and the Flying Dog variety case seemed like a pretty good idea, and among the variety was this Hefeweizen. It pours a light orange/yellow color. There's a bit of a haze too it, but I could still see my hand through it pretty easily. Smells a little yeasty with some citrus thrown in. Sweet, light, crisp wheaty/yeasty taste with a finish that's a little more tart than bitter. A little bit of citrus flavor, but the character of this beer isn't especially strong. It's light and refreshing, but it's not lighting the world on fire either. Like most of Flying Fish's offerings, it's quite drinkable and would make a nice summer session beer, but it's not exactly the best wheat beer I've had or anything. I'll give it a solid B-. Not something I'd seek out regularly, but it's still pretty good.
Beer Nerd Details: 4.7% ABV bottled (12 oz). Drank out of a pint glass.
Later in the night, I had a few IPAs, which I must admit, put this one to shame. Part of that might be that wheat beers aren't often meant to be huge flavor bombs, but I do like the wheat beer style, and there are many that I'm looking forward to trying. So here's a list of other Wheat beers I'd like to try (that I've never had before):
Weihenstephaner Hefeweissbier (duh)
St. Bernardus Witbier
Victory Whirlwind Witbier (pretty sure I've had several of these one night, but it's been a while)
Victory Sunrise Weissbier
Any other recommendations?