Vintage Port is generally a pricey proposition, but one of the few good things about the PLCB monopoly is that when the Chairman sets his sights on Port, you're in for a bargain or two. Most Vintage Ports I see sell for $70 or more, but currently in PA, this bottle can be had for $39.99. Still expensive, to be sure, but not a bad shake. I do enjoy the occasional nightcap of Port, though it's usually something more along the lines of a basic Reserve Port. However, since we're on a little quasi-hiatus from beer, I figure it's worth splurging on a bottle of Vintage Port.
Near as I can tell Barão de Vilar (the "Baron of Vilar"?) is a longstanding but somewhat obscure producer that has been attempting to expand their footprint. Vintage Ports aren't an every year thing, but 2011 appears to have been a particularly good year, referred to as a "Classic" that is drinkable now but which will also age well.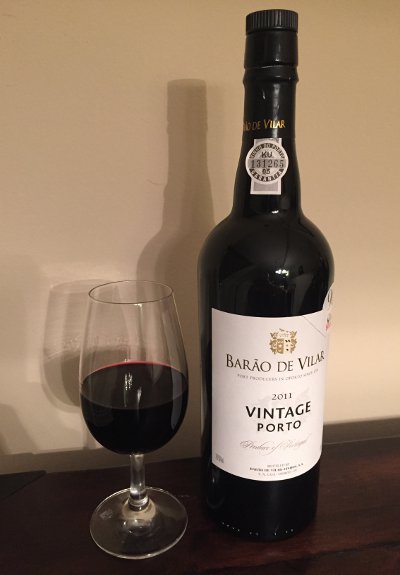 Barão de Vilar Vintage Port 2011 – Pours a beautiful, inky dark purple color. Smells amazingly good, ripe dark fruits, chocolate? A slightly earthy note? Taste is full of rich fruit and a surprisingly strong tannin character. I don't mean to imply that this is some sort of tannic monster, it's more of a relative thing. Tannic… for a port. It's not unpleasant and it certainly does make the wine distinctive, though I have to wonder about the implications. Does this make the bottle a particularly good candidate for aging? Perhaps! I mean, I don't really know, this is a beer blog, so take this with a giant asteroid of salt, but it seems worth a flier. Mouthfeel is full bodied, rich, and chewy. Not dry, but again, that tannic character does contribute more dryness than your typical port. Overall, this is drinking well right now, but I'm guessing it will age really well. B+
Wine Nerd Details: 20% ABV bottled (750 ml corked). Drank out of a copita glass on 2/28/16. Vintage: 2011.
Beer Nerd Musings: I've already speculated on the usage of port barrels to age beer, how a Vintage Port barrel would compare to, say, a Tawny Port barrel, and even the concept of fortified beer. This time around, I'd like to think on the concept of a "Vintage" year. I wonder how that concept could apply to beer. Interestingly enough, there are some examples of this sort of thing. Rodenbach does Vintage releases (in addition to their normal blended releases), but near as I can tell, they do them every year, so it's not as selective as Port. Drie Fonteinen does have a beer called Oude Geuze Vintage and this is, in fact, not released every year (though it is most years). But again, it's not quite a direct analog to Port. It is, in fact, the same beer as the "regular" Oude Geuze, but for whatever reason, the brewers decide that it needs more time to mature in the bottle. This could be because they think it has good aging potential, but it could also be because a portion of the current batch simply hasn't carbed up enough or developed enough such that it would be consistent with the typical release. Now, usually, the Vintage release is received rapturously, but that could simply be because it has had more time to age. Unlike most beer, Lambic appears to age remarkably well, so this beer has a built in rarity and desirability right from the start. It's probably the closest beer comes to something like a Vintage Port.
The PLCB also has bottles of Feuerheerd's 10 Year Old Tawny Port right now, and that's also worth picking up (not sure if I like it more than last year's Reserve Port, but I'll take it). Stay tuned folks, tomorrow we hit up some Bourbon.