I've dabbled in the realm of mead in the past, but it's never really become a go-to replacement for beer. Last year's sampling of Schramm's fruited meads left me feeling interested, but I'm still not convinced that meads will be able to fill the void when beer is unavailable (the way that wine or bourbon can). At its best, mead has filled the role of "interesting change of pace" or "I'm glad I tried that 2 ounce pour at a share," and I don't think that will change in coming years, so take what follows with the appropriate asteroid of salt.
Arizona's Superstition Meadery seems to be a well regarded producer of fine meads, and I've actually had their most popular mead, Peanut Butter Jelly Crime, at a share before. It was good enough that when this year's annual break from beer came along, the Kaedrin procurement department put in an order.
One thing they had plenty of that I was curious about were barrel-aged meads. The treatment doesn't seem to be particularly common at other meaderies, and I was curious to see if the process would add that curious x-factor that seemed to be missing for me when it comes to mead. And, well, let's just say that, despite the enticing novelty of pretending to be a viking or Beowulf, I won't be investing in a fancy drinking horn or any other such mead accoutrement.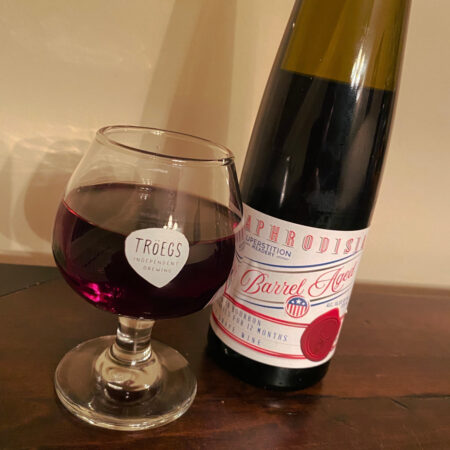 Superstition Aphrodisia Bourbon Barrel Aged Mead – Mead made with Arizona wildflower honey and Syrah and Cabernet Sauvignon grapes (this formulation is referred to as a Pyment mead), aged in bourbon barrels for 12 months. Pours a clear, deep, dark ruby red color. Smells very sweet, honey, lots of dark fruit, maybe vinous but it's honestly less prominent than I'd expect, I don't get much barrel at all in the nose either. Taste is rich and sweet, the vinous fruit comes out a little more here than the nose would imply and there's a hint of tannins balancing out against the sweetness of the honey, a little booze and oak, but I'm not entirely sure I'd have pegged this as BBA in a blind tasting. As it warms, the barrel character comes out more, or I convinced myself that it did or something. Mouthfeel is rich and full bodied, but not as syrupy as some other meads I've had, even if it's still sticky sweet. Overall, it's a strange little mead – it's really good, but I don't get all the wine/bourbon barrel notes I'd expect in something like this and even 375 ml seems like a bit much. B+
Mead Nerd Details: 15.5% ABV bottled (375 ml corked). Drank out of a snifter glass on 3/22/22. Batch 1. Bottle #415 of 770.
Superstition Aphrodisia Rum Barrel Aged Mead – Very similar to the BBA version, only it was aged in rum barrels for 12 months. It's still a little light on the barrel, though I dunno, maybe the brown sugary rum notes come out a bit more here than the bourbon did in that version? I had these about a week apart, so whatever. Ultimately, it's really good stuff and it's well crafted and I'd totally take this over some other meads I've had, but I was still hoping for more out of that barrel… B+
Mead Nerd Details: 14.5% ABV bottled (375 ml corked). Drank out of a snifter glass on 4/4/22. Batch 2. Bottle #298 of 350.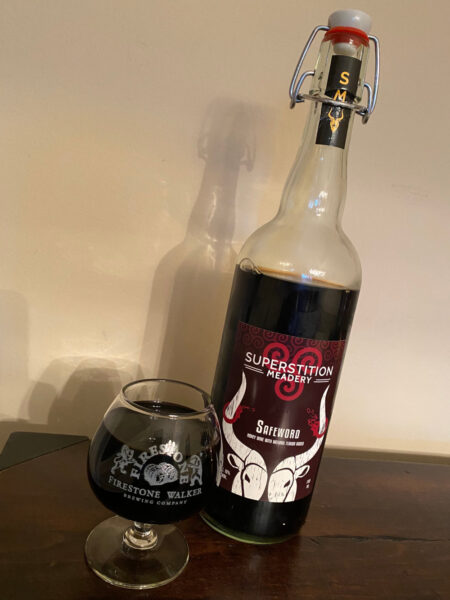 Superstition Safeword Mead – Made with Belgian Dark Candi Syrup in addition to the honey, and aged in oak. Pours a dark brown color with an amber highlight, no head, completely still (which, like, it's supposed to be, was I trying to make a joke when I originally wrote this?) Smells nice, sweet, caramelized sugars, a hint of dark fruits in the background. Taste is also quite sweet, more of that honey character than caramel coming here, though you get hints of caramel and oak in there somewhere. Mouthfeel is rich and full bodied, but again not syrupy. A little boozy burn, but nothing outrageous. It's nice! I like the idea, but once again, the oak isn't transforming this the way I'd expected. The 750 ml packaging is way too much, but the swing top works well – I drank this over the course of about a week, and while it wasn't the same at the end, it was still fine. B
Mead Nerd Details: 15% ABV bottled (750 ml swing top). Drank out of a snifter glass on 4/1/22. Vintage: 2021.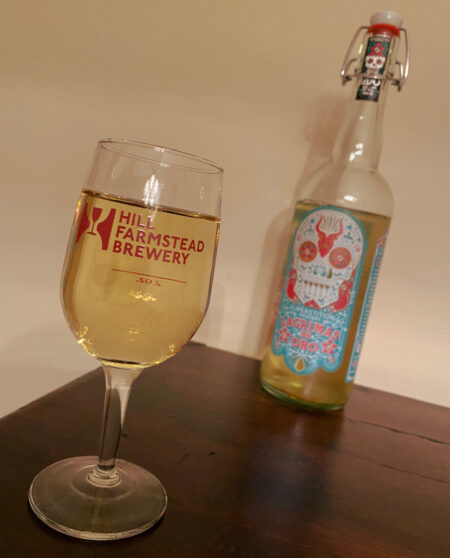 Superstition Lagrimas De Oro Mead – Traditional mesquite honey mead aged in a bourbon barrel. Pours a striking, crystal clear, very pale yellow color. Not getting much on the nose, just a faint, vague sweetness. Taste hits that sweet honey hard, and there's a boozy bite to it, with the bourbon and oak coming through moreso than the above examples. Mouthfeel is not quite as syrupy as the others, but it's still very sugary sweet, with a boozy heat to it. The balance seems a bit off here, with the barrel coming through well enough, but not as well integrated as happens in beer (or even wine). Overall, it's fine, I'm probably just not as much of a mead/honey guy as I'd hoped. B- or B
Mead Nerd Details: 13.5% ABV bottled (750 ml swing top). Drank out of a flute glass on 4/10/22. Vintage: 2022.
Beer Nerd Musings – One interesting thing about Superstition's barrel aged offerings is that they have actually used bourbon barrels that previously held beer (i.e. 3rd use barrels), and in at least one case, a specific beer. The aforementioned Peanut Butter Jelly Crime has a barrel aged variant that was aged in Bottle Logic Fundamental Observation barrels. According to my Untappd, I've actually checked into that mead, though I don't remember much about the barrel impact (at the time, I may not have known much about Fundamental Observation either) – I suspect it wasn't huge, as with the meads in this post. Still, it's an interesting approach.
So there you have it. I'm clearly not much of a mead guy, but I tried to be fair in my ratings. I do have at least one beer/mead hybrid coming up soon, but I suspect I won't be going out of my way for meads in the future…