The greater Philadelphia area saw a pretty large increase in breweries in 2012. Of course, Tired Hands gets the lion's share of attention these days (and I'm certainly guilty of that), but the other standout appears to be Forest & Main. The two breweries share a lot of similarities. They opened within weeks of each other, they both seem to have a love of saisons and farmhouse ales (though Forest & Main also has a distinctly English bent that isn't as prominent at Tired Hands), they're both quite small, and they're both damn good brewers. They both have brewpubs that buck your typical brewpub (at least, the ones we get around here, like Sly Fox, Iron Hill, Victory, and McKenzies – all of which I like a lot, to be sure) and focus on local, small-scale, quirky, and personable atmosphere. When I stopped by last week, I immediately recognized that vibe and felt right at home.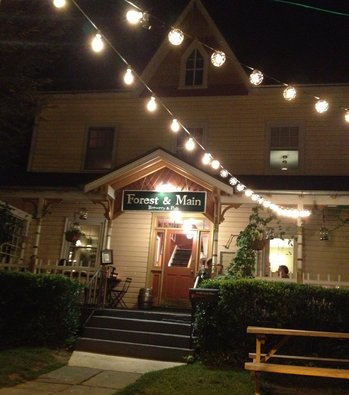 My visit came on a whim, so I actually didn't end up staying very long and missed any opportunity to try any food. However, I did run into the chef and several employees who were finishing off their shifts with a few pints of their own, and from what I've heard of the menu, I need to visit a bit earlier sometime so I can try out some of this stuff.
I ended up sampling two of their brews, but next time I go, I think I'll have to grab a flight… I didn't even manage to take good notes (I know, I'm awful), but I got enough of a taste to know that I need to get myself up here more often.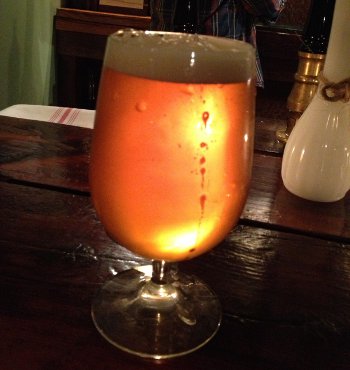 Forest & Main Saison Des Tiers – A blend of oak aged and fresh saison, this sucker had a nice funky tartness going for it, and was exceptionally drinkable. Stone fruits, oak, and funk, nice tart sourness, very well matched stuff. B+
Beer Nerd Details: 5% ABV on tap (16 oz.) Drank out of a goblet on 9/4/13.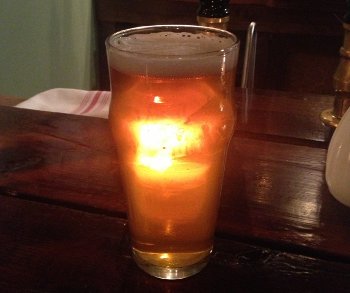 Forest & Main Kinch IPA – While Tired Hands' take on the IPA is distinctly American, Forest & Main seems to lean more British. What I had here would probably still be characterized as an American IPA, but it's not intensely bitter, and it clearly makes use of some European hops in the recipe. The bartender mentioned that this particular batch utilized German Saphir hops, which I believe mix the new world citrus hops character with the more classic noble hop character (spicy, herbal). This, of course, wasn't the only hop used, but that sort of old/new world fusion seems to be the defining character of this IPA, which was really quite pleasant and a very welcome change of pace, as I've been overloading on those bright fruity citrus hops of late. B+
Beer Nerd Details: 7% ABV on tap (16. oz) Drank out of a nonic pint glass on 9/4/13.
The bartender was also messing around with blends of various stuff, and gave me a little sample of a blend of Kinch and Douteux (a Brett dubbel), which was actually pretty good. It's a bit of a haul to drive up here, but I see myself making the trek again soon (though perhaps not as often as Tired Hands!)