Tonight was beer club, a meeting of beer minded individuals from my work who get together for a meal and lots-o-beer once a month. Tonight, we wondered why we don't do this more than once a month. We had a strange turnout this month. Lots of people, but really only 4 of us were drinking lots of beer (other folks bring wine or don't drink at all). Still, a good time was had by all, and we had a pretty nice selection of beers: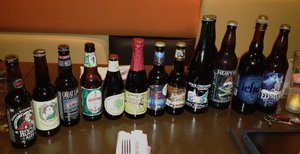 (Click for bigger image)
For the sake of posterity, some thoughts on each beer we tried are below. As usual, conditions were not ideal, so take it all with a grain of salt. Actually, no. It's the final word on the subject. In order of drinking (not necessarily the order in the picture):
Harpoon Winter Warmer – A pretty straightforward winter warmer style beer. Not quite as dark as I'd expect, lots of holiday spices in the nose and taste. Decent, but nothing special… B-
Achouffe N'Ice Chouffe – Achouffe's holiday beer brewed with spices turned out to be a bit disappointing. Pours a nice brown color with a bunch of head and a nice Belgian aroma. But the taste is filled with sweet raisiny character that doesn't always work well for me. It got a little less powerful as it warmed up a bit. Very sweet and raisiny. A decent beer, but I expect more out of Achouffe… B-
Great Lakes Christmas Ale – It's got all the standard winter warmer characteristics, but it's also brewed with honey, and you really get that additional honey character in the taste. It makes this a somewhat unique brew, and it's actually well balanced. That being said, I've never been that big of a honey person, so it's still not knocking my socks off. B
Leinenkugel's Fireside Nut Brown – I've never been one for Leinenkugel's beers, and I don't think this was anything special, but it's a reasonably well executed brown ale with a nice nutty flavor. Not something I anticipate trying again, but it wasn't repugnant either. B-
Rogue Santa's Private Reserve Ale – I actually reviewed this last year and my thoughts on the beer have changed very little. A decent beer, but not something I'd go out of my way for…
Dixie Blackened Voodoo Lager – My least favorite beer of the night, this one wasn't really offensive so much as it didn't really have much going for it. Flavors seemed a bit muted (especially considering the context of a beer tasting) and while it was crisp and clean, it just didn't do much for me. C
Goose Island Christmas Ale – ZOMG! It's a beer mostly owned by Anheuser Busch. I have a reflexive dislike for that, but then, this was actually one of the better beers of the night. A really well balanced and tasty winter warmer style beer. Hop flavors of pine and spruce dominate the palate, but it's not particularly bitter either, which is an interesting combination and everything is rather well matched. B+
Heavy Seas Yule Tide – A Belgian style tripel, this one doesn't really have much in the way of holiday spirit, but it's a decent strong pale ale. Typical Belgian yeast flavors are there, but it is extremely sweet. This worked fine for the limited portions of beer club, but to be honest, I'm positive this would become overly cloying if I tried to drink an entire bottle of the stuff. B-
My Homebrewed Christmas Ale – I've been trying these ever since I bottled it, but this particular bottle seemed a bit under-carbonated. My regular 12 ounce bottle sseem to be fine (I'm sipping on one right now, actually), but this 22 ounce bottle seemed a bit light on the carbonation. Not sure what to make of that, but it should hopefully work itself out by Christmas…
A few of the beers in the picture were not actually opened. We ended up using them as a sorta Holiday beer exchange/white elephant style gift for each other. Overall, we all had a good time and I'm already looking forward to the January edition of beer club. Until then, expect a whole slew of additional holiday beer reviews!