I have to admire Ommegang's ability to incorporate brewery-name puns into their beers. It's inspiring. Ommegeddon, O'mmegang (an Irish stout that I've never had), Obamagang (aka Inauguration ale) and now Gnomegang, a collaboration with sister brewery, Achouffe (world renowned for the cute little gnomes that adorn their bottles… and, you know, I guess they're known for their good beer too). Both breweries are owned by parent company, Duvel, so it's not much of a stretch to see these two collaborating, but it's still nice.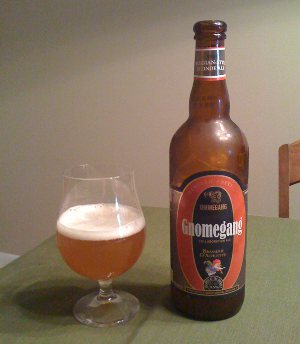 Ommegang Gnomegang: Apparently brewed with Achouffe's house yeast in primary, and Ommegang's house yeast in secondary, this beer has lots of spicy flavors despite no actual spices being added to the wort (something Ommegang typically does with their brews). Pours a hazy, light orange color with a finger of light head. Smells fantastic. Bready/fruity Belgian yeast, sweet candi, and a bit of spiciness in the nose. Taste is very sweet, a little fruity, and spicy, with some alcohol manifesting in the finish. A pretty full body here, with ample carbonation and a well executed boozy stickyness in the finish. There's also a nice warming alcohol sensation here that works pretty well. As I've come to expect from Ommegang, it's extremely well balanced and a joy to drink. I suppose it could be a bit too strong, but it worked well for me and it's really nice to see Ommegang collaborating. A-
Beer Nerd Details: 9.5% ABV bottled (750 ml, caged and corked). Drank out of a tulip glass on 6/3/11.
I've always been a huge fan of Ommegang, but I should probably check out more from Achouffe sometime (they're apparently famous for their Tripel IPA, which does sound rather interesting)…