After nearly a decade of beer blogging, it's not often that I cover a new style. To be sure, the Sahti style basically amounts to a specific Finnish farmhouse tradition that could probably fall under Saison. Because of course it would; Saison as a style is staggeringly vague. The Sahti tends to be made with a variety of grains and uses juniper in addition to (or instead of) hops. While I haven't written about it, I've had a couple in my time: Dogfish Head Sah'tea (which, as per usual, is a wacky take on the style that incorporates Chai tea elements) and Tired Hands Statolith (apparently one of my lowest rated beers from that local fave).
Enter Ale Apothecary's take on the style, which incorporates some eye opening bits of Finnish tradition – namely, the use of a trough-shaped lauter tun called a kuurna. The brewers chopped down a 200 year old, 85 foot tall spruce tree that was on their property, hollowed it out to create the trough, and used the boughs and spruce tips as a mash filter which will also add some character to the finished beer (they are basically substituting spruce for the historically used juniper). Otherwise, this gets the typical Ale Apothecary open-fermentation/oak-aged treatment, and the result is, as per usual, pretty solid stuff: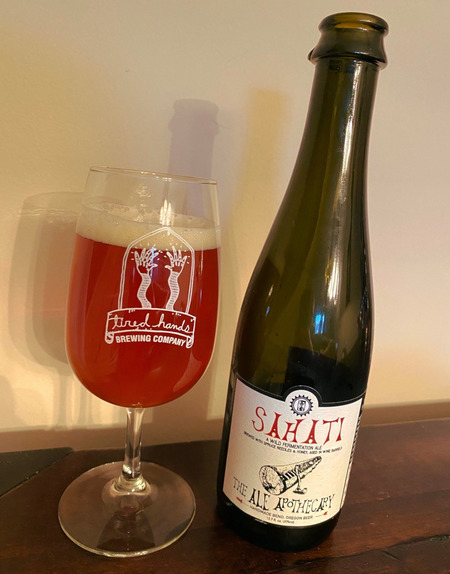 Ale Apothecary Sahati – Pours a deep orange color with some amber tones peeking through and a finger of moderately bubbly head that actually sticks around for a bit. Smells nice, dark, vinous fruits, acetic vinegar, some mild funk, and I don't think I'd pick out spruce blind, but because I know it's there, I feel like I can get that aroma too. Taste hits those same dark vinous fruits and vinegar notes, not as sour as the nose would have you believe, but it packs a punch for sure. It's got a sweetness that perhaps cuts through that sourness and the oak leavens things out a bit too. Mouthfeel is medium to full bodied moderately well carbed (a little lower than your typical saison), medium acidity, a little sticky, and some boozy heat too. Overall, ayup, it's a gud un. I don't know why I started talking like a grizzled mountain man there for a sec, but here we are. B+ or A-
Beer Nerd Details: 9.26% ABV bottled (375 ml). Drank out of a flute glass on 4/18/20. Bottled: July 11, 2019.
Typically good stuff from Ale Apothecary. They make pricey beers, but if you like a good sour, they're pretty damned good at that sort of thing.