The vaunted Van Winkle line of bourbons ranks as among the most hyped offerings ever offered by people who offer things. Once people who never used to care about bourbon started plunking down massive amounts of cash for bottles of the stuff, the intangibles of the entire bourbon market changed, triggering a bit of a backlash amongst the old guard bourbon nerds. This sort of mainstream appeal "ruining" the experience for former insiders can be witnessed all over the roadmap, from cult movies to comic books to musical acts; you name it, and there's probably some small community on the internet bemoaning the intrusion of philistines. In the bourbon world, Van Winkle has become something of a scapegoat.
To be sure, there's no way in a million years I'd ever pay secondary market prices for something like this1. Even as a beer nerd, I'm not above paying a small premium to try good bourbon, but the secondary prices for this stuff are just ludicrous. I'm fortunate enough to live in Pennsylvania, where the PLCB rules over liquor sales with an iron fist, and thus we get these statewide lotteries. I hesitate to say "fortunate" because the PLCB is so awful in so many other ways, but over past few years, the lottery has allowed me to secure a few bottles of premium hooch for basically MSRP. It's the one good thing about the PLCB, though it doesn't feel that way when you get shut out.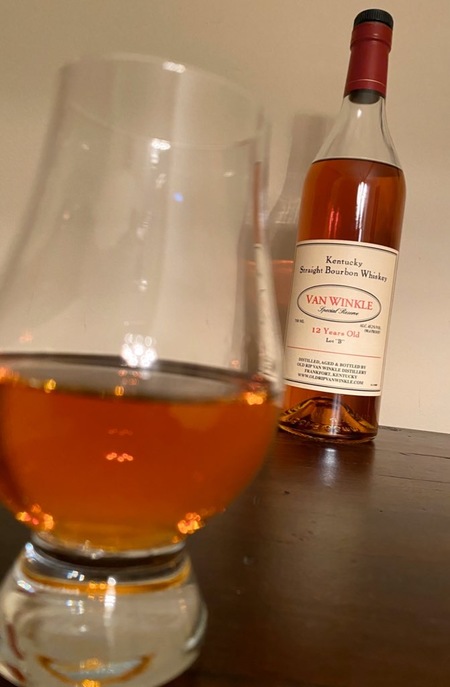 While anything with the name "Van Winkle" attached has succumbed to the black-hole-levels gravitational hype associated with it, the Special Reserve or Lot "B" offering seems to be the least prized. It is, of course, the offering with the most bottles available (and we all know that rarity makes bourbon taste better). There's another bourbon called W. L. Weller 12 Year Old that is basically an identical bourbon with different labels (the only difference is that the Van Winkles are apparently picky about barrels and warehouse locations, and thus their picks are supposedly better). Bourbon nerds will take pains to explain that if it's not the 15, 20, or 23 expression, it's not officially a "Pappy" bourbon. Heck, they literally named it Lot "B", presumably because their other offerings represent A levels. Even the label looks like it was an afterthought. The 10 Year Old Rip Van Winkle offering, which you might assume would be similarly stigmatized, has a higher proof and very sexy label.
Most of this is purely academic though, and it's worth noting that 12 year old bourbon appears to be right in the sweet spot, balancing maturity and flavor in harmonious ways. I was fortunate enough to get my paws on Pappy 23 last year, and while I thought it was phenomenal, I can see what people mean when they say it's a bit over-oaked and out of balance. What does the fabled Lot "B" hold in store? Only one way to find out: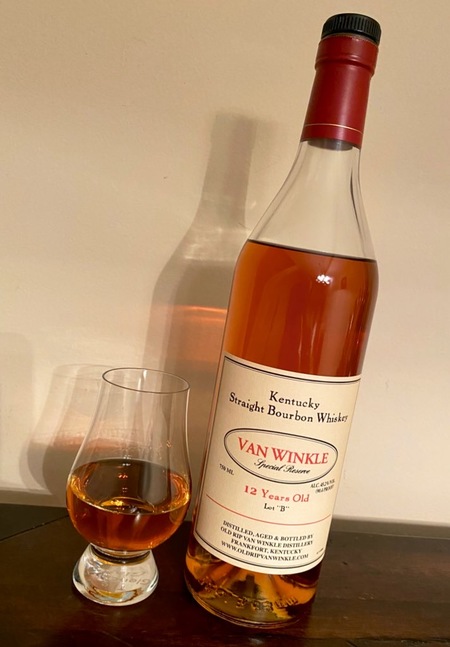 Van Winkle Special Reserve Lot "B" 12 Years Old – Pours clear golden orange color with short legs (if any bourbon nerds are reading, please note that I come from the beer world which is currently dominated by turbid, murky looking hazy IPAs that look like chicken broth, so any alcoholic liquid that is clear is a sight to behold). Also, and this is a stupid observation, but it's significantly lighter in color than the 23. I mean, yeah, duh, right? But still. Smells very nice, caramel, oak, and a little vanilla, with a slight dusting of spice lurking in the background. Of my nose? Sure, I guess, I'm not particularly great at bourbon tasting notes. Really nice balance and complexity in the nose though, and it really opens up after a few minutes; more vanilla and almost cake-like sweetness, I could sniff this glass all night. Taste hits a lot of those same notes, caramel, oak, and vanilla, with some spicy highlights. Mouthfeel is medium bodied and very easy going, obviously boozy to this beer drinker's baby palate (like, I'm not used to drinking high test liquor, not like I eat babies or something, gah), but nowhere near the hazmat monsters I've been known to drink. Overall, this is really good bourbon, but I'm not entirely sure it justifies the hype or premium. The nose is really fantastic, but it's writing checks the taste/palate can't cash. B+ or A-
Bourbon Nerd Details: 90.4 proof, 45.2% ABV bottled (750 ml). Drank out of a glencairn glass on 3/27/20. Vintage: 2019
Beer Nerd Musings: Anything in Pappy's orbit, even if it's beer aged in a Pappy barrel, is subjected to that massive gravitational hype. But as mentioned above, this is technically not "Pappy", and thus I don't think I've (knowingly) had anything aged in one of these barrels. Kaedrin's crack research team has managed to find one example though, so they exist (it's a 17.5% ABV imperial stout, sounds delightful, though I've not heard of the brewery/beer and it appears to be rather limited). I mean, it's good bourbon, so it's bound to result in a good barrel for beer. Big shocker. The Weller's bourbon barrels also show up sometimes, which this would be similar to, I guess. Beer barrel provenance can be a weird thing though. Some breweries are extremely clear about which barrels were used. Some use far too many different barrels to be that specific. Some just aren't specific. Is it because they're using some bottom shelf crap? Or is there some sort of weird legal liability issue? Whatever the case, I'm down for more Weller 12/Van Winkle 12 barrel aged beer.
Look, if you're in a quasi-hiatus from beer and in quarantine and you haven't even worn shoes in 6 days, a bourbon like this will brighten up your day. One more non-beer post before we return to beerland, and it will be bourbon related mad science.
1 – During my team's extensive research process, we found some online stores that have this bourbon in stock… for $900. I feel pretty confident in saying that this is not worth that, which is more than 10 times as much as MSRP and what I paid for it.