Alright, no dumb, intentionally misleading references for this beer (unlike some other Fremont offerings I've written up), but it's worth noting that the Abominable Snowman on the label is wearing a coconut bra, which is pretty fabulous.
As per usual, Fremont blends vintages of aged beer, this time 9, 12, and 24-months old bourbon barrel aged B-Bomb, then they added toasted coconut. Coconut can be a tricky ingredient. At its worst, it can make a beer taste/smell like sun tan lotion. But at its best, it can transform the beer into something akin to liquid Samoa cookies (or Liquid Caramel deLights, depending on which Girl Scout bakery region you live in). I'm happy to report that this is the latter: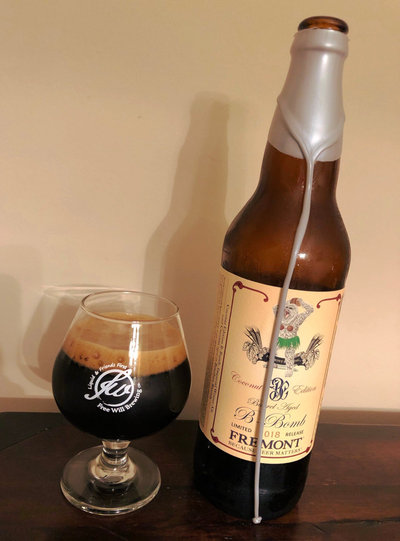 Fremont Barrel Aged B-Bomb Coconut Edition – Pours a dark brown color with a finger of light tan head. Smells great, tons of toasted coconut, some boozy bourbon, oak, and vanilla aromas, but the coconut is most prominent. Taste is very sweet, tons of toasted coconut, some caramel, and plenty of boozy bourbon, oak, and vanilla. It's kinda like a liquid Samoa cookie. Mouthfeel is rich and full bodied, well carbonated, plenty of booze. Overall, a fantastic variant and nice change of pace, but my dumb-dumb instincts always prefer the base. A-
Beer Nerd Details: 14% ABV bottled (22 ounce bomber). Drank out of a snifter glass on 5/24/19. Vintage 2018.
That basically covers my spin through the Fremont KDS and B-Bomb variants. I didn't post about Coffee KDS or Coffee Cinnamon B-Bomb because of my general ambivalence towards coffee, but I did share both with friends and they were both pretty damn good (especially Coffee Dark Star, which was fantastic) and received well. In general, though, my feeling is that the plain ol' KDS and B-Bomb are the best. I've got one more Fremont beer in the pipeline, and a couple others that I would love to get ahold of, so you haven't seen the last of these folks on these pages. Stay tuned…