I've been lucky enough to have sampled some barrel aged Cycle Brewing beers that friends have generously shared with me. I recently managed to acquire a few for myself and noticed something curious on the label: "Drink Fresh! DO NOT AGE." This is the sort of thing I'm used to seeing on an IPA (and it certainly makes a big difference on those beers), but not so much on an 11%+ barrel-aged stout… I figured that enquiring minds would want to know, so I drank some beer and fired off an email to Cycle to see why they were so insistent on this. Their response was interesting and detailed, so let's take a look:
I can go long on this but the short answer is: beer doesn't get better with age generally speaking. There are exceptions, active cultures being the most obvious, and some stouts and other big beers do ok, but how many barrel aged stouts can you honestly say got better?
I pretty much agree! While I have experimented with aging beer, my repeated observation is that while it's always a different beer than it was fresh, it's rarely a better beer.
And on top of that, we do tons of adjuncts, so from that small set of beers that got better, how many had adjuncts? Not many in my experience, the most common discussion is whether or not it held up which is basically hoping it's as good as it once was. We don't find cellaring beer to be worthwhile, most of the time it's not as good, almost as good seems like a win. The tone most often struck in tastings of old beer is "it help up pretty well" and frankly we think our beer should be consumed rather than aged. We make a lot, more now than ever, drink what we packaged and more great beer is just around the corner.
Adjuncts and flavorings are definitely something that does not hold up well with age. I can only think of one example that held up amazingly well to the point of being potentially better than fresh (Bourbon County Vanilla Rye), but who knows if that's repeatable. The observation that most discussion around aged beer centers on whether or not it's "held up" is a good one and it's funny that so many people talk about aging beer when the frame of reference is already pessimistic…
Ultimately it's a subjective decision, I respect that and am not here to argue whether you like it better or not but in our opinion our barrel aged beers don't improve with time. We did learn that non-barrel aged high gravity beers can benefit from them and we think the key component is yeast in suspension, with such a high density from the sugar the yeast is actually buoyant enough to stay floating around for a long time, months possibly, and it doesn't taste better with yeast, we are actually wondering if half the improvement we see in the beer through barrel aging is just giving it enough time for all yeast and sediment to fully settle out. That remains speculation and just something new to ponder, post barrel aging though it's time to drink or hope "it held up pretty well" someday.
It's funny, but the most successful aging experiments I've had involve things like Lambic (i.e. bottle conditioned beer with active cultures, etc…) or non-barrel-aged behemoths like World Wide Stout or Samichlaus. We could probably quibble over the degree to which the barrel contributes its own character (I think it's probably more than half), but it's a fascinating observation that some of the benefit of barrel aging doesn't come from the barrel itself, but rather allowing the time for yeast and sediment to settle out (and perhaps other age-related processes). As they say, this remains speculation, but it makes logical sense.
Ultimately, my feelings on aging beer remain the same. It can be fun, but it rarely improves the beer, and barrel-aged beer tends to be just right when "fresh". Usually, if anyone asks me about aging beer, my response is always that you should drink it fresh first. If you can get your hands on another bottle, feel free to age it, but it probably won't get better over time (though it can still be interesting and a lot of fun). The lone exception in my book tends to be Lambic, but that's a sorta unique situation. All of this is academic, of course, since the three barrel-aged Cycle beers that I managed to get my grubby fingers on were all gone within a week or two of acquiring.
In the grand Kaedrin tradition of speculating on goofy or obviously wrong influences for beer names, I'm guessing Cycle named this beer after MS-DOS 3.0, an extremely rare release due to Microsoft's battles with IBM (3.1+ were much more common). Or, possibly DOS is just an acronym for Double Oatmeal Stout. This particular iteration was aged in whiskey barrels for a full year.
C:\windows\chkdsk /f
Windows has scanned the beer system and found no problems.
This beer is pretty damn great. 0 KB in bad sectors.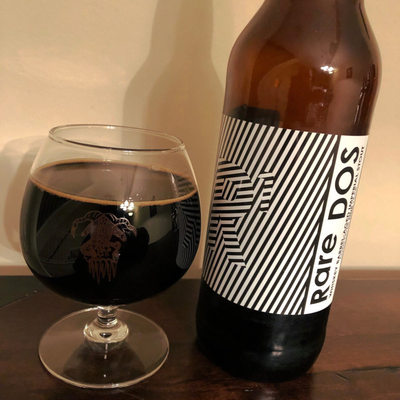 Cycle Rare DOS 1 – Pours an inky black color with just the barest cap of light brown head. Smells great, rich caramel, fudge, and a strong bourbon, oak, and vanilla. Taste hits that rich caramel up front, sweet but some of the underlying roast character emerges here too, chocolate, char, toast, and of course, lots of that bourbon, oak, and vanilla. Mouthfeel is full bodied, rich, and chewy, thick and viscous, moderate carbonation, and a really well integrated booze profile. Overall, yup, pretty spectacular stuff, and you know how much I like the unadorned BA stout. Just barrels and stout, and it's great. A
Beer Nerd Details: 11% ABV bottled (22 ounce bomber). Drank out of a snifter on 2/15/19. Vintage: 2019.
I also shared the Barrel Aged Hazelnut Imperal Stout with some friends, which was phenomenal (even given my general antipathy toward coffee and hazelnut). The Bourbon Barrel-Aged Baltic Porter was a little less successful (relative to the others), but quite nice. It's a bit pricey to get these beers sent up to PA, but it feels worth the stretch, and you will most certainly be seeing more Cycle on this blog in the future…