The two-headed Roman god Janus could see into the past with one face and into the future with the other, and as such is generally regarded as the god of things like beginnings, transitions, and time (amongst other such concepts). So too is the month January named after Janus, as it's a transition to a new year. An almost completely arbitrary one, to be sure, but it's good to take some time out to strap on our Janus mask, take a step back and reflect on where we are and where we're going. This can be a tricky thing in our increasingly polarized society, but fortunately beer is generally a simpler pleasure (especially if you focus more on the liquid in the glass rather than more nebulous things like business, law, or culture) and this is but a simple beer blog, so let's take a look at my year in beer. Assorted thoughts:
The Evolution of Novelty – Last year I speculated on the end of novelty, but that's too broadly stated. However, the fact remains that I'm drinking more repeat beers than ever. There are annual releases that I look forward to every year. Sometimes I'll even buy a 4 or 6 pack of something and drink the entire thing! I know that sounds awfully normal to most people, but for years and years, I would just buy single bottles/cans/drafts of as many things as I could and basically never drank the same beer twice. In short, I was a novelty whore, and drinking the same beer twice almost felt like some sort of moral failure. Of course, this is silly, and such feelings have pretty much disappeared in the past few years. This is not to say that I don't still seek out the new and exciting, just that the prospect of drinking multiples of the same beer is now pretty common, especially when it's something I really enjoy. Which, again, sounds dreadfully normal and I'm sure the fact I'm even harping on this at all would be confusing to some people, but this is where I'm at.
The Rise of Lagers – It's no secret that the grand majority of beers that garner hype in the beer world tend to be ales, and even here, my tendencies are to review mostly ales. That being said, lagers have been a growing portion of my beer diet. Again, this is indicative of a longer term trend that began years ago, but blossomed more this year, in particular with respect to Oktoberfest beers, of which I drank many (indeed, these beers were a key player the aforementioned repeat beer drinking). Of course, I didn't actually review any of them, so maybe I have some work to do on that front, but then:
The Decline of Blogging – This blog has never particularly garnered a huge audience, but I'm assuming that if you are actually reading this, you may have noticed a distinct decline in the posting schedule over the past year. Once again, this is a longer term trend, but it accelerated this year, to the point where I'm only really posting 3-4 times a month on average. Certainly a far cry from the heyday of the blog, when I'd regularly post 3-4 times a week. There are many reasons for this. I've been writing here for over 8 years and while I'm not above a little repetition, it does feel like I should only really be writing about things that really knock me out or that inspire me in some sort of unique way. After writing about 200+ Stouts (and similar numbers of IPAs), the style itself doesn't provide much inspiration, so it's got to come down to brewery info, some sort of story about the name or inspiration behind the beer, or just bald recitations of tasting notes (and you know how exciting that can be). Posting will, of course, continue, if only out of sheer momentum, but I like the more relaxed once a week schedule these days. Or perhaps I should take to writing more freeform stuff or more creative exercises. Time will tell, of course, but I suspect I'll maintain a relatively healthy schedule.
Beer Shares – At this point, I regularly participate in 2-3 bottle shares a month, with varying ranges of intensity. This has lead to new friendships and the opportunity to taste some great beer that I'd otherwise never have a hope to try, and it's a lot of fun. Alas, since these tastings aren't happening in a sensory deprivation chamber with strictly controlled light, temperature, and humidity conditions, they don't usually make for good blogging material (another contributer to the above lack of posting). This has been one of my favorite developments of recent years though, and it's been a really good time.
Barleywine is Life – The trend of the year that I didn't realize was happening until I put some lists together below and noticed the prevalence of a style that I've always enjoyed, but which has taken on a bigger role, probably due to DDB's totally bonkers Barleywine is Life Facebook group. Fully 25% of my top 20 of the year are barleywines (or at least, life-adjacent stuff like B-Bomb), and 40% of the unreviewed hit the mark too (at least one of which will be reviewed in detail, I just haven't gotten to it yet because I'm the worst). It's an impressive showing, and I expect the trend to continue into the new year (already have a couple new bwizzle bangers in the pipeline).
Homebrewing Limbo – I'm at a place right now where I'm home brewing once a year. I enjoy the process and it's been a really great way to learn about what really makes beer tick, but I haven't make much time for it in recent years. I was planning on doing something when I took a vacation across the holidays, but then I came down with the flu and that kinda killed any motivation I had. I really do want to do that Scotch ale I've been threatening to make for a few years now, so who knows? Maybe I'll ramp it up this winter.
Aging Beer – My first few rounds of experiments with aging beer have already come to fruition, and this year was something of a rebuilding year, with more of a focus on getting Lambic in the cellar to age. I suspect some of that aging will come to fruition in the next few years, but in general, aging beer is fun, but highly variable and not strictly necessary. Mostly beers do change, sometimes dramatically, but aren't necessarily much better than they were fresh (and sometimes they're far worse). As per usual, my eyes are bigger than my liver, so some aging happens just by default as I buy more beer than I could ever drink (or even share). The cellar is getting a tad bit unwieldy though, so this year might see a more significant "drink down" of older beers with a bit of a purchasing freeze. Regardless, it will be a fun year.
Taking a Break – I continued my Lenten tradition of (er, mostly) giving up beer for a while this year, and I think the practice is a solid one that does me (and my waistline) a lot of good, so I expect that to continue. Indeed, I could see my overall consumption reducing throughout the year as well. This dovetails nicely with the whole evolution of novelty thing mentioned above, as one of the things that drove drinking to higher levels was the all-consuming need to explore the new and exciting beers I'd acquired (or which were on tap locally, etc…) I've also gotten better at not forcing myself to power through too much of a beer that I don't like. This goes against my general desire for efficiency and frugality (I mean, I spend a lot more than most on beer, but since I do so, I generally feel obligated to get my money's worth), but there's no need to torture myself.
So all in all, it's been a good year for me and beer, but then, what year hasn't been good? In accordance with the decline in blogging and increase in repeat beers, my top "new to me" beers of the year list is shrinking. This year, I'm only listing 20 beers with reviews (but another 10 that I never got around to reviewing for various reasons). Standard disclaimers apply: this is a list of beers that were new to me this year and which I reviewed on the blog. It's not an all time favorites list, so if you don't see something on here, then maybe I didn't try it this year or perhaps I had it in a previous year. Or you have bad taste and are a bad person. It could be that too. This is a naturally arbitrary exercise, but I always have fun with it and enjoy making lists like this. Lists are American! So let's do this thing:
The Unreviewed
Beers that where I had small samples and/or never wrote a review, but an impression was made regardless.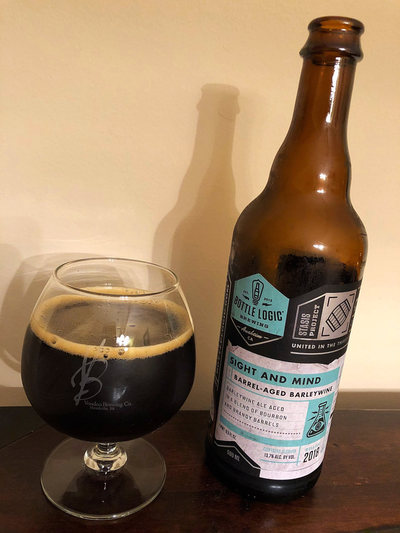 You will be seeing a full review of this Bottle Logic barleywine soon enough, so stay tuned. In other news, the new year in beer looks as promising as ever, so let's get back to the hard, hard work of drinking beer, shall we?