I have a friend with a penchant for Alaskan beers who was always giving me a hard time for only having two reviews of Anchorage beers on the blog, so this one's for you buddy. Also, if you can get me an extra bottle or two of A Deal With The Devil, I will gladly review that (in all fairness, this person has generously shared a bottle of that right excellent barleywine, and it was indeed glorious, but those weren't exactly ideal reviewer conditions and you know how we do here at Kaedrin – journalistic integrity and all that garbage. Alright fine, it's just laziness, you happy now?)
So what we have here is an Imperial Stout brewed with Summit hops, aged in a variety whisky barrels, and bottle conditioned with a wine yeast. This is apparently different from the original batch (released in 2013), which used a Belgian yeast and incorporated Pinot Noir barrels in addition to whiskey barrels. It still feels like a distinct offering in a crowded BBA stout field. To paraphrase Carl von Clausewitz, this is the sort of beer that requires "an intellect that, even in the darkest hour, retains some glimmerings of the inner light which leads to truth." Or, you know, something like that.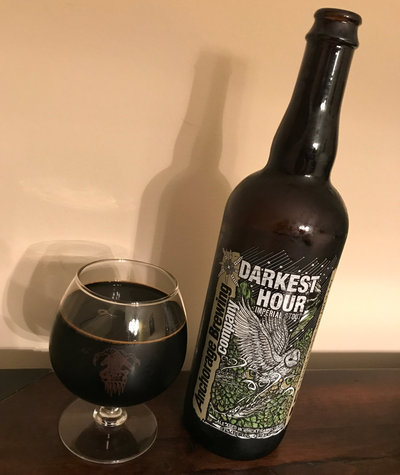 Anchorage Darkest Hour – Pours a deep, dark brown, almost black color with just a ring of brown head around the edge of the glass. Smells sweet and rich, caramel, liquorish, oak, vanilla, and bourbon. Taste has a sweet, rich caramel to it, with that liquorish pitching in, roasted malt, char, coffee, a hint of spice, finishing on that whisky, oak, and vanilla tip. Mouthfeel is rich and full bodied, light but appropriate carbonation, sneaky booze bite. Overall, yep, really good example of the style, if not quite as comparatively great as something like ADWTD… B+
Beer Nerd Details: 13% ABV bottled (750 ml caged and corked). Drank out of a snifter glass on 8/18/17. Vintage: Batch #3 DEC/2016.
So there you have it. If I ever get my greedy little paws on ADWTD, you will most certainly see that popping up here at some point, but you never know. I've generally enjoyed everything I've had from Anchorage, so maybe we'll get to something else before then…