Hard Sauce is a rich mixture of butter, sugar, and booze that is a frequent accompaniment to a large number of holiday sweets, puddings, and pies (as befits its seasonal provenance, other flavorings like vanilla and nutmeg are often added). The term "sauce" doesn't really capture the consistency here though, it's more of a spreadable soft butter than a smooth liquid or glaze. But when paired with warm pudding or pie, it does melt into more of what you'd think. It appears to be English in origin, dating back to King George I (aka The Pudding King), who demanded plum pudding with hard sauce at all Royal Christmas dinners.
Apparently the fine folks at Cigar City prefer their hard sauce paired with warm Pecan Pie, so they brewed this beer with pecans and vanilla, then aged it in bourbon-barrels. Imitation is the sincerest form of flattery, but then, the second half of that quote is "that mediocrity can pay to greatness" so let's not get carried away. So hold on to your hats, Oscar Wilde fans, we're taking a closer look: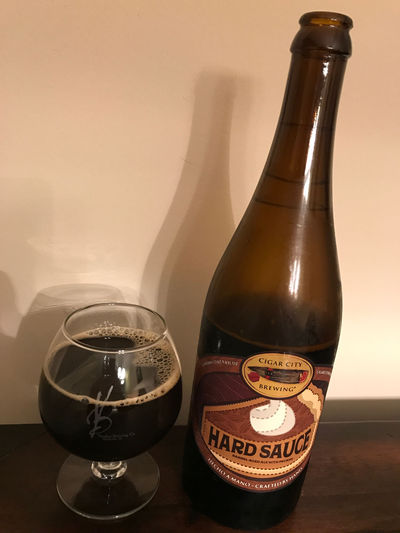 Cigar City Hard Sauce – Pours a dark brown color with a thin cap of tan head that quickly disappears. Smells of, yes, pecan pie, nutty, sweet, caramel and toffee, a little bourbon, oak, and vanilla. Taste starts with rich caramel and toffee, some oak and vanilla, moves into that nutty pecan character, finishing on a boozy bourbon note. Mouthfeel is medium bodied and rich, tightly carbonated, some sticky booze. Could probably use a bit more heft here, but it comports itself well enough. Overall, this is really nice and the pecans come through strong… not their best Barrel Aged effort, but a decent change of pace. B+
Beer Nerd Details: 11.9% ABV bottled (750 ml). Drank out of a snifter on 8/11/17. Bottled on: 12/21/16.
Many thanks to fellow BeerNERD Ray for the bottle (it's one of the El Catador Club beers). Cigar City always worth a try, and I tend to enjoy their barrel aged efforts…