Southern Tier seems to have fallen from the vanguard of the beer nerd scene (you can only drink so much Pumking, you know), but offerings like this could certainly make some waves with jaded dorks on the prowl. It's an English style barleywine aged in a trio of barrels. A third of the blend was aged in bourbon barrels, another third in bourbon barrels that once held maple syrup, and the final third aged on charred oak staves used in Southern Tier's distilling program to create whiskey.
There's a large community dedicated to investigating the existence of the legendary sasquatch, but did you know that they refer to their investigations as "squatching". I'd call it kinda dumb, but then, I wait in lines for beer. Fortunately not this beer, though. Aged for 12 months and clocking in at a healthy 14.9% ABV, it's a beer worthy of Bigfoot. Or at least something to bring on your latest squatching excursion.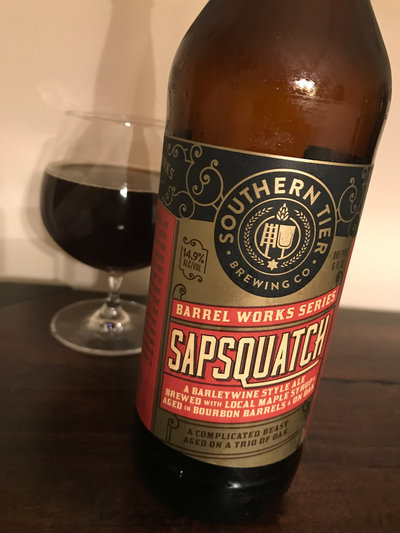 Southern Tier Barrel Works Series: Sapsquatch – Pours an almost clear, very dark amber brown color with a cap of short lived light tan head. Smells fantastic, booze soaked raisins, rich caramel, toffee, brown sugar, molasses, bourbon, oak, and vanilla. Taste hits similar notes, but is not quite as complex as the nose. Sweet, but not cloying at all. Mouthfeel is rich, medium-to-full bodied, perfect carbonation, some lingering but pleasant booze. Balance isn't a word you'd use for a beer like this, but maybe proportional works. Overall, this is really damn good. A high B+
Beer Nerd Details: 14.9% ABV bottled (22 ounce bomber). Drank out of a snifter on 6/23/16. Bottled: April 2017.
I've never been particularly in love with Southern Tier, so this was a welcome treat. It seems pretty widely available too, which is nice (I would totally grab another of these for a rainy day). There's supposed to be another Barrel Works beer called Monstrous that looks like a straightforward bourbon barrel aged imperial stout, my kinda beer. It's nice to see these folks stepping up their game (and with a minimum of gimmicky adjuncts).