Of The Bruery's long line of Mélange experimental blends, the #3 seems to be the best known, most widely consumed, and among the top rated iterations. It has three components: their Anniversary Old Ale (a solera-style barrel-aged beer that holds a special place in my heart), White Oak Sap (a barrel-aged wheatwine that I have not had, but which bears a resemblance to White Oak, which is actually one of my least favorite Bruery beers), and the fabled Black Tuesday (a colossal 18%+ ABV imperial stout aged in bourbon barrels that is glorious). All of these components are above 14% ABV and it's packaged in a large-format bottle because (as I've already established) Patrick Rue is trying to kill us. He doesn't feel pity, or remorse, or fear. And he absolutely will not stop… ever, until we are drunk.
Anyways, exact proportions of the blend are unknown, but I'm going to give it a SWAG because I'm the worst. I suspect the majority of this beer is the Anniversary Ale, with smaller proportions of White Oak Sap and Black Tuesday that mostly cancel each other out, leaving us back at Anniversary Ale territory. Which, like, isn't a bad thing. I absolutely love the Anniversary Ales, and this one does feel like it gives a slight twist to the old familiar. That being said, I was perhaps hoping for a little more of the Black Tuesday influence. Still, with Mélange #3 hitting distribution this year, it's not difficult to obtain (if a bit pricey), so if you like the Bruery's barrel-aged stuff and you can handle MarkIntiharing a 16.3% ABV beer, this is worth checking out: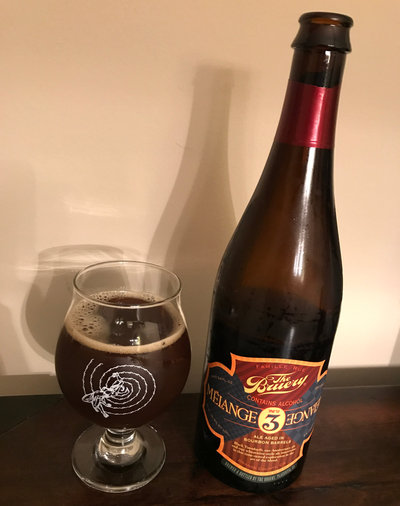 The Bruery Mélange #3 – Pours a murky dark brown color, maybe a scosh darker than your typical anniversary beer, with half a finger of off white head. Smells wonderful, caramel, toffee, oak, vanilla, toffee, caramel, bourbon, toffee, caramel, hints of something a little darker, not quite roast, but maybe chocolate, lending it a sorta chocolate covered caramel/toffee feel. Taste follows the nose, rich caramel and toffee, bourbon, oak and vanilla, did I mention caramel and toffee, lots of booze in the finish. As it warms, dark fruit emerges in the middle and evens out that finish. Mouthfeel is full bodied, rich, and chewy, plenty of boozy heat. Overall, it feels a lot like a slightly more complex Bruery Anniversary beer; the other components are there, but they seem to balance each other out, leaving you back in Anniversary territory. Not that that is a bad thing, as those anniversary beers are some of my all time favorites. A-
Beer Nerd Details: 16.3% ABV bottled (750 ml). Drank out of a tulip/snifter glass on 4/15/17. Vintage: 2017.
Par for the barrel-aged Bruery course, which is pretty good in my book, and it was a welcome return to beer after my temporary hiatus.