One feature most of these newfangled Northeast IPA brewers have is that they make, like, a hojillion different varieties of IPA. To all the normals out there, this must seem baffling in the extreme. How different can all these IPAs be? Us abnormal hop-sniffing degenerates know what's up though, and these two cans of Other Half that recently found their way to Kaedrin HQ are a pretty good example of distinction.
By all appearances, they're similar DIPAs with the major difference being the hops used. One a trendy Mosaic hopped beer, the other using more traditional Segal Ranch high-oil Cascades, but they come off very different. I mean, not night-and-day, but maybe night and twilight or something. No, I don't like this metaphor anymore. It's hacky and cliched. I'm the worst. Let's just look closer: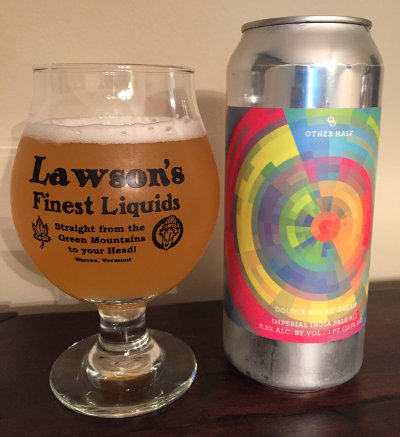 Other Half Double Mosaic Dream – First, that is one gorgeous label, eh? Pours a hazy straw yellow color with a finger of fluffy white head that leaves some lacing as I drink. Smells great, huge waft of tropical fruit, some resinous pine lurking in the background, sweet candied notes tying it together. Tastes delicious, sweet with that juicy tropical fruit up front, hints of pine in the middle, finishing with just enough bitterness to balance things out (definitely on the sweeter side of the IPA realm, but not at all cloying). Mouthfeel is medium bodied, finely carbed, and very well balanced. Overall, yeah, this is the stuff. Sometimes I feel like Mosaic is overrated, and people do tend to go a little too crazy of these hops, but beers like this show why pretty well. Best Other Half I've had yet. A
Beer Nerd Details: 8.5% ABV canned (16 ounce pounder). Drank out of a tulip glass on 7/22/16. Canned 7/15/16. Batch: Double Downer.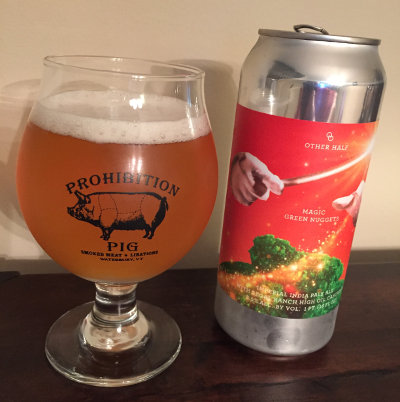 Other Half Magic Green Nuggets – Another nice label, though sometimes the hops on the label look like… broccoli? Anywho, pours a clearer, darker, more golden yellow color with finger of fluffy white head, similar lacing. Smells a little more subdued, sweeter but with a lesser citrus and pine quality. Taste is very sweet, but with a cleaner, more earthy, floral character in addition to the typical, old-school citrus and pine, a hint of booze in the finish. In general, a little more dank than the Mosaic, not really juicy. Mouthfeel is bigger and heavier, but still nice, well carbed, a little more out of whack and boozy, but still quite well crafted. Overall, this is decent, but it reminds me of something more older school. Victory's Ranch S (i.e. another single hopped DIPA with Segal Ranch Cascades) comes to mind, though this is just as good if not better. Indeed, this feels like there might even have been a different yeast in use (producing a cleaner, clearer beer, similar in many ways to the type of stuff Victory produces). Tasty double IPA, well worth trying, but there are easier to acquire analogs out there. B+*
Beer Nerd Details: 8.5% ABV canned (16 ounce pounder). Drank out of a tulip glass on 7/22/16. Canned 7/15/16. Batch: Kazaam!
Many thanks to fellow BeerNerd Sheik for making the long trip to Brooklyn and waiting in line for these beauties. Other Half is clearly the real deal and if I didn't have Tired Hands in my backyard, I'd probably be seeking this sort of thing out more often. As it is, I'm still going out of my way to snag their stuff, so there is that. You will no doubt hear more about them soon.
* But you rated Victory's Ranch S an A-!? Two answers to this: 1. Grade inflation is real and b) I'm the worst. This has been established.