So you're making a beer celebrating Winston Churchill, what do you do? Obviously start with an English style, in this case an Old Ale, something that is distinctly English. Should probably name it after something that embodies his spirit, and perseverance is unquestionably something Churchill had in abundance. I mean, any survey of famous quotes is bound to find a Churchill quip that is pertinent here. For example: "If you are going through hell, keep going." Yes, sir. Then, naturally, you need to amp up the alcohol. I mean, sure, the notion that Churchill was a functioning alcoholic is almost certainly exaggerated, but the man did certainly enjoy imbibing and liked to promote his seemingly "bottomless capacity." So high ABV it is! This sounds like a job for Adam Avery. Yes, another behemoth from Avery's Barrel-Aged Series that stretches beyond the 18% ABV mark. So, like, not an everyday drinker, but after a long weekend of not drinking much, this one was perfect. Will I persevere in finishing this beer? So it would appear: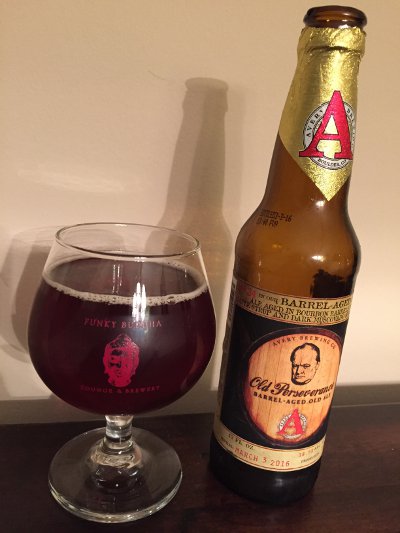 Avery Old Perseverance – Pours a clear amber brown color with half a finger of off white head. Smells of fruity malt, a little of that maple syrup, and hints of bourbon, vanilla, and oak. Taste is very rich, again with the almost fruity malt character, figs and the like, with some toffee notes and a little caramel pitching in (but not as much as you'd expect), and just enough boozy bourbon, oak, and vanilla. Mouthfeel is full bodied, rich, and chewy, plenty of well balanced carbonation, and lots of booze. Intense, such that it would be nice to share a single 12 ounce bottle… Overall, this is very good, rich, tasty, worth checking out, but it's not going to make you fall down and see God. It is an interesting spin on the style while still retaining its distinct attributes though, which is admirable. B+
Beer Nerd Details: 18.5% ABV bottled (12 ounce bottle). Drank out of a snifter on 5/1/16. Bottled: March 3, 2016. Production: 783 cases.
Never, never, never give up! And I won't, Winston. In fact, I will be seeking out some more in the way of Old Ales in the near future, I think. It will require some hoop jumping though, so wish me luck.