In the beer world, over 90% of the market is comprised of cheap, mass-market lagers (and the grand majority of that is produced by a small handful of companies like Bud, Miller, and Coors). With so much variety and meteoric growth, it's easy to forget that we're still a tiny minority, if a growing one. Similarly, the grand majority of Scotch that is produced are blends. Some of these are bottom-shelf turpentine nightmares, but think along the lines of Johnnie Walker or Compass Box. Only in the past few decades has "Single Malt" Scotch become a thing. Before that, distilleries basically didn't release their whisky, they just sold it to blenders, who blended their way to profit (near as I understand it, in the distant past, these were basically just spirits shops who bought whisky, bottled it, and slapped on their own house label. This became so successful that these houses became famous brands that we all know, like Cutty Sark, The Famous Grouse, etc…) Basically, Scotch was a commodity market, and the distilleries weren't very well known as they were kinda behind the scenes.
Enter Independent Bottlers, who would buy up whatever malts were available, and release them individually. This is basically the equivalent of Non-Distiller Producers in the USA, but with a lot more history and tradition. These independent bottlings can be a bit overwhelming at first. Sometimes you won't even recognize the distiller, whether that's because they've long been closed (which happens a surprising amount) or because the distiller just doesn't bottle their own malts. Other times, you'll recognize the producer, but it can be an unusual age (i.e. very young or very old), have a strange one-off finish, be bottled at cask-strength, and so on. Search the internets, and you usually won't find any notes of these suckers. Near as I can tell, the releases are wildly inconsistent, and pricier than similar offerings. Sometimes that pays off because you've found an unexpected gem, other times well, let's just say that perhaps there's a reason no one else wanted that barrel.
I'm not a Scotch expert, but I believe this 18 year old Caol Ila Scotch from Montgomerie's is one of the diamonds in the rough. It's an Islay malt, but Caol Ila doesn't seem to enjoy the rabid following that gloms on to the likes of Ardbeg (a Kaedrin favorite, to be sure), Lagavulin, and Laphroig. They're sorta famous for having a more mild peat smoke character than their Islay brethren, and as such, are favored for blends (they're a key component in Johnnie Walker Black and Compass Box Peat Monster, for example). They're a huge distillery, but most of their output goes to blends, though they do have some of their own bottlings (the standard 12 year offering is a great introduction to peat smoked whisky). I took a flier on this bottle last year, but didn't open it until recently. It was expensive, to be sure, but I'm really glad I bought this, as it's fantastic: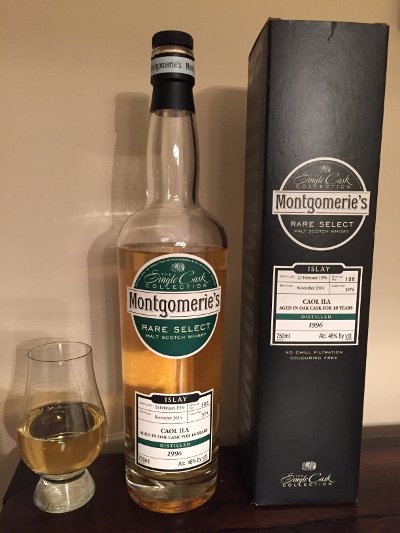 Caol Ila 18 Years – Montgomerie's Rare Select 1996 – Pours a very pale straw yellow color (can never get over how light a lot of Islay malts appear – it belies the intense flavors to come), pretty decent legs too. Smells great, peat smoke is there but it's not a peat bomb, it's actually quite sweet, vanilla and sugar cookies. Seems to open up over time too, getting sweeter and even less peaty. However, that peat is much more prominent in the taste, lots of smokey, ashy flavor here, a note of sweet honey, hints of vanilla and oak, maybe a little peppery spice, finishing on that ashy peat smoke. Not as medicinal or iodiney as some other Islay malts. Mouthfeel is rich and oily, but not especially hot (I guess all those cask strength whiskeys I've been drinking lately are adjusting me palate). Still pretty intense though and the finish lasts for a while, making for a nice slow sipper. Overall, this is fabulous, easily among the best Islay scotches I've ever had…
Whisky Nerd Details: 46% ABV bottled (750 ml). Drank out of a Glencairn glass on 3/21/16. Distilled: 23 February 1996. Bottled: November 2014. Bottle No. 106. Cask No. 3074.
Beer Nerd Musings: Believe it or not, the first time I ever heard of Caol Ila was when I went to a local watering hole and the proprietor told me I had to try De Struise's Black Damnation III, a big imperial stout aged on Caol Ila barrels. I had no idea what that meant at the time, and truth be told? That wasn't the best beer in the world. Islay malts tend to overpower beer, and despite Caol Ila being more mild than something like Ardbeg, this beer was no exception. That being said, now that I have more of a taste for peat smoke, I might appreciate it more these days. If I see this beer again, I will almost certainly try it again. Even if it wasn't my favorite beer, it was an interesting beer. Regardless, I don't think I'd play around with this for homebrew. Not only is it too expensive to use that way, I doubt my oak cube aging skills would be good enough to yield a good result.
Phew, this pretty much wraps up the quasi-hiatus. Beer blogging will return next week, though things will probably remain a little slow until I build up that backlog of reviews. Until then, have a great Easter.