Amongst whiskey nerds, George T. Stagg appears to rival the vaunted Pappy Van Winkle line as the most lauded bourbon around. Stagg is basically standard Buffalo Trace that is aged extra long and then bottled at cask strength (usually with eye-popping, hazmat range proofs). It hasn't quite captured the mainstream as much as Pappy (I don't think I saw it on Justified, for instance), and thank goodness for that, but it's usually mentioned in the same breath as Pappy and as such, it's apparently just as difficult to land as any other whiskey out there.
I managed to get a bottle purely by luck. I complain a lot about the PLCB, but last year they instituted a lottery system for limited release spirits like the Buffalo Trace Antique Collection (which Stagg is part of), and I was lucky enough to win a bottle. The stats for the full BTAC lottery are pretty interesting, as not a single bar got a bottle of Stagg because it was picked last in the lottery and thus all of the bars had already won something else. More for us consumers, I guess. There were about 3,500 eligible entries for Stagg, and 186 winners (of which I was one). Also of note? The bottles were priced at $59.99 (As I understand this, the bottle normally retails for $79.99 and will go for 10 times that on the secondary market, easily). Hard not to be pretty pleased with the PLCB in this scenario, I must admit, and when I got my grubby hands on the bottle, I immediately went into the Gollum pose and started referring to it as "my precious". Seemed appropriate.
The 2015 iteration of Stagg was distilled in the spring of 2000 and released in the fall of 2015, making it about 15 years, 1 month old. It is comprised of 128 different barrels (#4 char), which sounds like a lot of whiskey considering a barrel is 53 gallons, but according to Buffalo Trace, 84.46% of the original whiskey was lost due to evaporation. Those angels were mighty thirsty! And it appears they soaked up mostly water in the process too, raising it to a nice and flammable level of 138.2 proof. Let's take a closer look: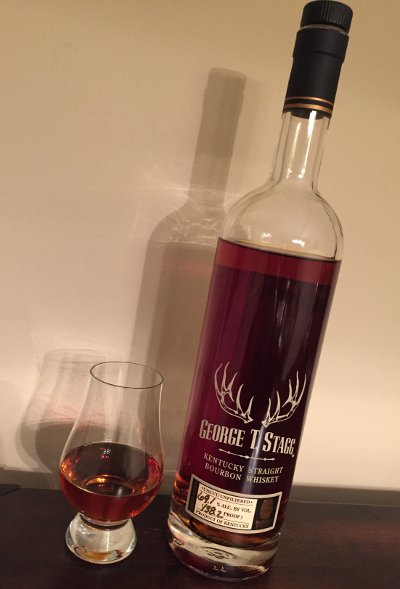 George T. Stagg – Pours a deep, dark golden amber, almost brown color, nice legs. Smells fabulous, rich caramel, vanilla, oak, notes of spice but this is clearly the low rye recipe. Not that it matters, as this nose just keeps opening up, the sort of bourbon that you can savor for hours on end. After a little water, the caramel softens a bit, feels more molassesey or something, still amazing. Taste hits the rich caramel, oak, and vanilla up front, some spicy, earthy notes too, lots of booze. Water mellows it out some, brings out some sweet notes. Mouthfeel is rich and full bodied, coats your mouth with a long finish, is naturally very boozy, but somehow not as harsh as some bourbons that are much lower in ABV. A little watter smooths it out some, at the cost of a little intensity (though you kinda have to at some point, and it's still pretty amazing). Overall, this is pretty spectacular stuff, definitely in the running for best whiskey I've ever had and probably takes that crown. A
Whiskey Nerd Details: 138.2 Proof, 69.1% ABV bottled (750 ml). Drank out of a glencairn glass on 3/11/16. Vintage: 2015.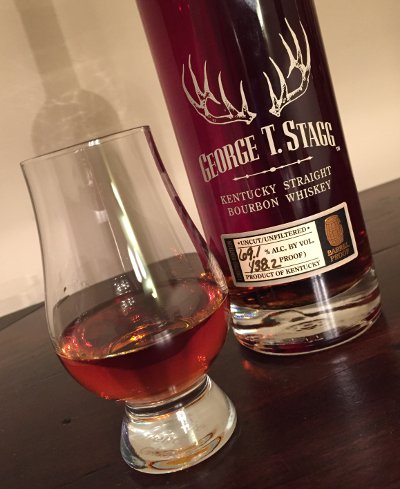 Beer Nerd Musings: For all the hype about Pappy barrel aged beer, I don't think I've ever seen a Stagg barrel aged beer. They exist, of course, but they seem few and far between. Evil Twin made a Stagg barrel aged Belgian Pale Ale, which seems like a tremendous waste. In fact, I can't seem to find any of the more prized BA styles like stout or barleywine, but it does seem like a ripe market for the taking. I guess you could say these are just "Buffalo Trace" barrels, which might work. These are definitely used a lot with beer, and usually turn out quite good, as evidenced by the win in the FiftyFifty Eclipse horizontal tasting. Also pretty tough to beat Buffalo Trace Barrel Aged Black Magick (though the Pappy Black Magick did, I think). Personally, I don't think I'd use this for homebrew. Seems like a crime to do anything but drink this whole bottle, neat (and, you know, with a little water).
Fellow Travelers: As a highly sought after bourbon, lots of folks more qualified than myself have written about this, so here's a few other opinions:
Well, that was an impressive bit of bourbon. Someday, I may even try some of the other BTAC bourbons. I'm particularly interested in William Larue Weller, but I'm betting that this will not happen anytime soon. I got lucky in the lottery last year, I'm doubting it will work out again (it certainly didn't in the Pappy lottery!) I'll probably take a flier on Stagg Jr. someday too, and will be sure to post about that when I get a chance. But for now, I think that wraps up the Bourbon reviews for this hiatus. However, we still have one whisky to go, a very nice, well aged Islay single malt. Look for that sometime next week…