Another year, another blend. You know the deal, every year Firestone Walker invites neighboring winemakers to get sloshed and blend a series of barrel aged component beers into a Voltron-esque super beer which becomes their Anniversary Ale. It's a process I've already covered in tedious detail, so I won't belabor that point.
Each blend varies considerably. XV was barleywine-heavy and fabulous. XVI was more evenly matched between stouts and barleywines, and while great, it's probably still my least favorite vintage. XVII returned to a barleywine focus and XVIII went to the dark side. Also of note with XVIII, it had a breakdown of 9 components ranging from 38% of the blend (the highest I've seen) to 2% (the lowest). This year, Firestone Walker ratcheted back the variety, making fewer component beers available for the blend (and removing the hoppy, stainless steel finished beers off the roster completely). As a result, we get a sorta back to basics look:
33.33% Parabola (13% ABV) Russian Imperial Oatmeal Stout. Aged in Bourbon Barrels.
33.33% Stickee Monkee (12.3% ABV) English Barley Wine. Aged in Bourbon and Brandy barrels.
16.66% Bravo (12.9% ABV) Imperial Brown Ale. Aged in Bourbon and Brandy Barrels.
16.66% Velvet Merkin (8.5% ABV) Traditional Oatmeal Stout. Aged in Bourbon barrels.
We're again trafficking the dark side here, with about 2/3 of the blend hitting the brown ale/stout territory (I guess it depends on how you categorize Bravo, but I've always put it in dark/stout territory). It probably helps that Parabola is the anchor here, any blend where that features so prominently is bound to turn out great I think. But what do I know? I'm just a dork on the internet. Let's take a closer look: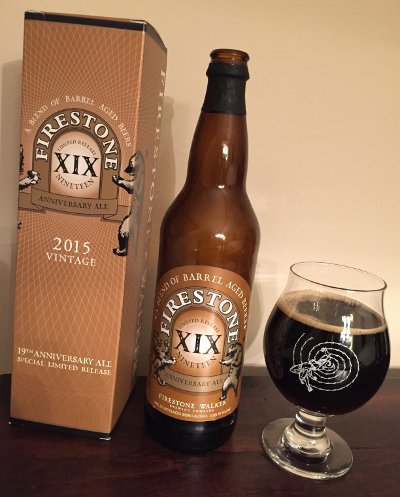 Firestone Walker XIX Anniversary Ale – Pours a deep, dark brown color, almost black, with a finger of short lived light tan head. Smells nice, roasty, almost nutty, with that typically fantastically balanced barrel character, vanilla, oak, booze. Taste is all rich caramel, dark fruits, hints of roast, maybe even that nutty note, and plenty of bourbon, oak, and vanilla. As it warms, the fruity brandy notes come out too. Mouthfeel is full bodied and rich, well carbonated but thick, a little pleasant boozy heat, but not sticky at all. Overall, another knockout from Firestone's Anniversary program. A
Beer Nerd Details: 13.8% ABV bottled (22 ounce bomber). Drank out of a snifter on 12/18/15. Vintage: 2015.
Drinking a new Anniversary Ale is always a pleasure, and this one stacks up favorably with all the others that I've had. Already looking forward to next year's batch, and fingers crossed that Bravo sees bottles this year…