In Brew Like a Monk, Stan Hieronymus relates an anecdote from Michael Jackson (the beer critic, not the pop star):
In one of the many stories he likes to tell about German, English and Belgian brewers, Michael Jackson first asks a German how beer is made. "Pils malt, Czech hops," the brewer replies. Then Jackson asks the German brewer down the road the same question. "It's the same as Fritz said. That's how you make a Pilsener, that's what we learn in school."

After getting a different answer from a British brewer, Jackson turns to a Belgian brewer. "First of all, you take one ton of bat's droppings. Then you add a black witch," the Belgian answers. "The brewer down the road uses a white witch." Jackson concludes with the lesson: "Belgium is a nation of tremendous individualists."
The notion of beer "styles" is so ingrained in our current beer culture that it's hard to imagine coming to it fresh, the way Jackson was doing 40 or so years ago. It's faintly amazing that we ended up with something even remotely workable, especially considering the tremendous individualism of Belgian beer.
Enter Sante Adairius' 16e series of one-off beers. It's a nod to Tim Clifford's time as a homebrewer, as he "gained a lot of notoriety" in competitions, especially with beers in BJCP Category 16e, a nubulous "catch-all" category of Belgian beer used to capture all those weird bat dropping and witch based ales and whatnot. Basically, it's Sante Adairius' line of experimental and weird beers that defy categorization.
This particular entry is called Jose Pimiento. I don't know who that is or why they named this beer after him, but Jose presumably enjoys chile peppers, because this is a sour blonde ale aged in barrels with dried chile peppers. This is… not a combo you're likely to see again, and is vaguely terrifying, but it appears they used a gentle touch with the chiles, as it adds complexity and flavor without overwhelming…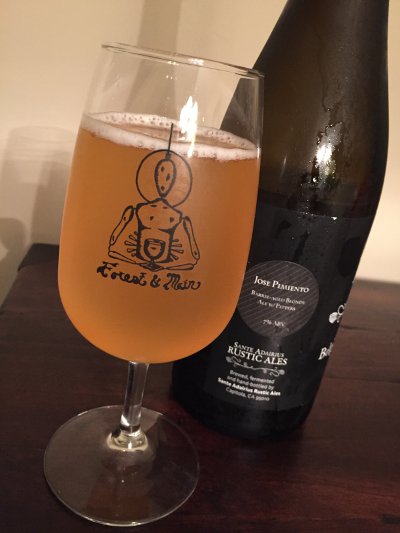 Sante Adairius Rustic Ales 16e Jose Pimiento – Pours a very pale, straw yellow color with a finger of white head that sticks around a bit. Smells of vinous fruit and oak, funky but very bright. If you do the equivalent of squinting with your nose, you can maybe, kinda, sorta find the pepper, but it's not really a prominent aroma at all. Taste starts off with those vinous fruit flavors up front, lactic sourness emerging quickly and lasting through the taste, and that spicy chile pepper comes out a bit more here, but it's still shy and introverted (like me!), and as a result, it adds complexity without overwhelming anything. It reminds me of the old Belgian brewing adage of spice – if it's identifiable, you've done it wrong. If I didn't know this involved peppers, I might note something, but I doubt I'd pinpoint it as dried chile peppers. Mouthfeel is well carbonated up front, but quickly falling off into a more sticky finish, some bright acidity here, and yes, faint hints of chile heat. Overall, this is a bit odd, but still another winner from Sante Adairius. A-
Beer Nerd Details: 7% ABV bottled (750 ml). Drank out of a flute glass on 11/13/15.
Another winner from SARA! Many thanks to Jay from BeerSamizdat for sending it my way. Keep them coming, Jay, I need to get my hands on moar SARA!