Wherein Allagash cuts out the middle man (you know, those greedy tables) and delivers a fresh fruit sour right to your face. All anthropomorphic jokes aside, I prefer to think of this as a subtle but scathing indictment of the three tier system of alcohol distribution put into place after Prohibition. Viva la fermentación! Well played, Allagash.
It's also a beer! Farm to Face starts life as a lowly Belgian pale ale, fermented with Allagash's standard house yeast. After primary fermentation is complete, they add pediococcus and lactobacillus and age the whole concoction on 6000 pounds of peaches. Bucking the current oaky fashion, the aging is done in stainless steel tanks, but don't let that fool you, this is superb stuff: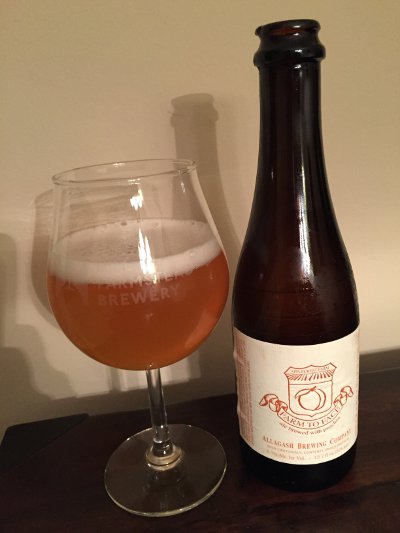 Allagash Farm To Face – Pours an almost clear golden yellow color with a finger of fluffy white head that sticks around for a bit. Smells amazing, lots of earthy funk and bright citrus fruit, peaches and the like. Taste hits the same notes as the nose, a very nice lactic sour punch, stone fruit, some earthy funk, and yes, more sourness. Mouthfeel is crisp, light, and refreshing, well carbonated, quite acidic, but still pleasant and balanced with the rest. Overall, this is delicious. A
Beer Nerd Details: 5.7% ABV bottled (375 ml caged and corked). Drank out of a charente glass on 11/20/15. Bottled: July 16, 2015.
Another winning sour from Allagash. I shall have to seek out their more obscure offerings on that front. Someday. Someday…