The Bruery's Anniversary beers hold a certain sentimental value for me, and as such, they've become a much anticipated annual tradition. As with the past few years, we've got a massive Old Ale base aged in Bourbon Barrels along with some of last year's batch (meaning that every batch of Anniversary beer contains a small amount of every previous batch, a process called the Solera method). Fortunately, after last year's substantial bump up to 16.9% ABV (from 15%), this one sees a slight decrease, though it still tips the scales at a hefty 16.2% ABV. It's their seventh anniversary, so it was named Cuivre, translating to Copper, after the traditional gift for such an anniversary. Alas, they appear to have given up on waxing these bottles, and we're left with one of those imitation wax foil things. Decent as they come, but not quite as sexy as a waxed bottle.
The ultra-high ABV game gets tiring pretty quickly, but there are some things that make it significantly more palatable. One is that the beer needs to be really good, something The Bruery is generally able to achieve. Another thing that The Bruery is not particularly good at is bottle size. I get it, they're a small brewery and would rather invest their money in more barrels and beer than upgrading their bottling line to accommodate smaller bottles. It's hard to argue with that. On the other hand, Black Tuesday is somewhere in the range of 18-20% ABV every year and it's a bit of a project to get through a bottle. A wonderful, delicious project, to be sure, but still. Sometimes, even sharing that much beer, at that high of an ABV, can be a challenge. I like to have people over from time to time, but I don't want them to leave completely sloshed, you know? In short, I think Patrick Rue is trying to kill us. All of us. No pity, no remorse, just large bottle formats. At least the other high-ABV culprits, like Avery or even Dogfish Head, will package their heavy hitters in 12 ounce bottles. The Bruery? Well, I guess I'll just have to live with making a night out of some of these things. And, to be sure, they're usually pretty fantastic nights: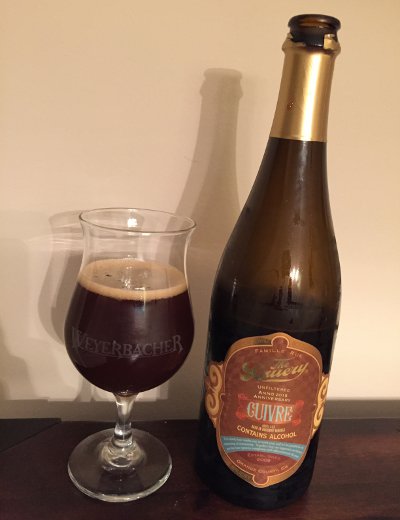 The Bruery Cuivre – Pours a cloudy, dense, brown color with a finger of light tan head that has decent retention but dies down to a ring around the edges and eventually disappears. Smells great, huge bourbon, oak, and vanilla character, with lots of rich caramel, toffee, werther's original, some of that almost fruity, raisiny malt character in the background, maybe even some spicy phenols like cinnamon in the mix. Taste is very sweet, lots of rich caramel up front, toffee, werther's, hints of fruity, raisiny malt, boozy in the finish, with just a hint of the spice box. Mouthfeel is full bodied, rich, and chewy, heavy stuff with lots of hot booze, a little sticky, and did I mention booze? A sipping beer for sure. Overall, a slight rebound from last year's overly boozy, one-note (but that one note was so good) affair, but it still feels like some of the earlier vintages were better. This series is still one of my favorites though, and hopefully always will be. A-
Beer Nerd Details: 16.2% ABV (750 ml). Drank out of a tulip glass on 7/2/15. Vintage: 2015.
This is a little on the expensive side, but it's also pretty widely available, and you don't see beers of this quality that often, so it might be worth the expense if you're into this sort of ultra-rich, high-ABV, bourbon barrel aged stuff. I'm a sucker for this series though, so take that with a grain of salt. Interestingly, I still have a bottle of Cuir, the second anniversary brew, sitting in my cellar, that for some reason (*ahem* the high ABV and large bottle format *ahem*) I've never opened. Maybe I'll get to that this year…