Alaska is a cold place, so I guess it makes sense that brewers situated in that bleak environment would resort to big, heavy malts and lots of booze. And thank God that they do, because I love those beers. Midnight Sun exemplifies this approach, with a line of impressive imperial stouts, one of the best barleywines I've ever had, and now this barrel aged monstrosity.
In Old Norse literature, Berserkers were warriors who dressed in bear pelts and fought with an uncontrollable, trance-like rage. It's speculated that they entered this state of wild fury through the use of drugs, though probably not a depressant like alcohol. These days, it's mostly a cheesy reference or way to describe comic book characters like Wolverine. And also this beer, a bourbon barrel aged imperial stout brewed with maple syrup and molasses. I sure do enjoy me, well, all of those things, so let's get to it. My love for you is like a truck, Berserker!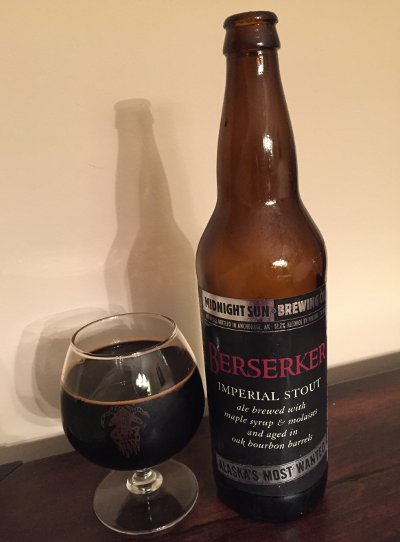 Midnight Sun Berserker – Pours a deep black color with a beautiful cap of dark brown head (maybe even a sorta amber tint to the head, very pretty, but short-lived). Smells of dark, roasty malts, vanilla, sweet brown sugar, dark chocolate, and a touch of bourbon. Taste starts with a nice, rich caramel that quickly yields to brown sugar, syrupy molasses, almost fruity, vinous flavors, a little oak and vanilla, boozy bourbon, then dark chocolate and more traditional roasted malts emerge towards and into the finish. Mouthfeel is full bodied, rich, and chewy, well carbonated, a little boozy heat. The closest thing I can compare this to is The Abyss, but with a little more barrel character. Overall, this is a rock solid Bourbon barrel aged stout, right up my alley. A-
Beer Nerd Details: 12.7% ABV bottled (22 ounce bomber). Drank out of a snifter on 5/15/15. Vintage 2015. 30 IBUs.
There is a beer called Son of Berserker that is made from the second runnings of Berserker's no doubt large malt bill, and honestly, at this point, I'm down for just about anything from this brewery, the bigger and burleyer, the better.