Started by a pair of married schoolteachers in their hometown of Blaugies, these folks have been brewing in their quaint farmhouse garage since 1987. That's a pretty long time for an American brewer, but in Belgium, where some brewers have histories dating back centuries, it's a young brewery (Michael Jackson once quipped that this beer was "A fine revival"). Everything they make is a saison, so you know it's a good bet, even if you're playing Belgian roulette. This particular example is made with Spelt and Dupont's yeast strain, but despite being very yeast-driven, it manages to remain distinct from most of Dupont's classic beers: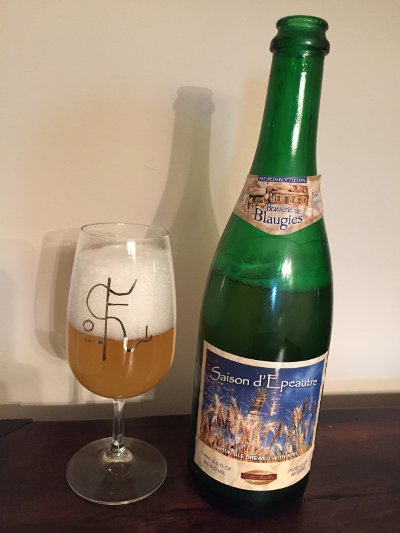 Brasserie de Blaugies Saison D'Epeautre – Hoo boy, the pressure in this bottle must've been massive, that cork could have punctured the ceiling if I wasn't careful. Pours a slightly cloudy straw yellow color with massive amounts of bubbly head and decent retention, though little in the way of lacing. Smells of dusty, musty belgian yeast, a little spice, like clove and coriander, and faint hints of fruity esters. Taste has a big spice note to it, the clove and coriander from the nose, plenty of musty yeast, with hints of bright fruit coming through. Mouthfeel is highly carbonated, crisp, and effervescent, quite dry as well. Overall, this is a fantastic, very well executed example of a rather straightforward saison, one I'd like to revisit for sure. B+
Beer Nerd Details: 6% ABV bottled (750 ml caged and corked). Drank out of a flute glass on 5/2/15.
Well, now I need to go find everything Blaugies ever brewed. Super.