Wimpy non-alcoholic beverage tastings continue with a pair of green teas that were paired with two of the more interesting horror movies I've seen lately. It Follows is a fantastic 80s throwback horror film, very tense and well executed, but doesn't really stick the ending. Spring isn't really horror and actually approaches romance, though there are monsters and stuff. Neither is perfect, but both are unusual and adventurous takes on normally stale stories. Worth checking out if horror is your thing.
Similarly, I really enjoyed both of these green teas, even if neither really knocked my socks off. The first one is a Gunpowder tea, meaning that the leaves have been rolled up into small pellet. Some say this looks like gunpowder, but as someone who reloaded bullets for years, I don't really see the resemblance. Regardless, I had no idea what it was when I ordered it, so it was interesting to see the little nuggets of tea. As for the other descriptors, Temple of Heaven refers to the most common style of gunpowder tea that is sometimes called Pinhead or Pingshui. What makes this Special Grade is anyone's guess though. Perhaps actual gunpowder is included.
Special Grade Temple of Heaven Gunpowder Green Tea – Leaves were very different than the green I had last year, almost nugget-like in appearance. The liquor itself is a very light, pale yellowish color (more brown than green, though not really brown). Smell has a mild vegetative aroma, a little grassy. Taste is also a little on the mild side, that light grassy character comes through well enough. Mouthfeel is light and clean, with a little pungent but pleasant kick on the sides of my tongue. Overall, it feels like a very nice, everyday cup of green tea. Not going to overpower you with anything, but tasty nonetheless.
Tea Nerd Details: 1 tsp for an 8 ounce cup, infused at 180° for 4 minutes.
Next up, I went for a flavored green tea. I've had some cheap, prepackaged Chai Green Teas before, and I really like that combination. The spices are quite strong, but the green has just enough oomph to not get lost in the shuffle, which makes for a lighter cup than black chai…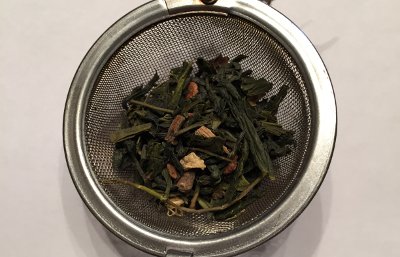 Chai Green Tea – Leaves are more traditional and have a bunch of spices intersperced throughout, appearance of the liquor is more green this time. As you'd expect, the chai spice is all over the nose, less cinnamon than I'm generally accustomed to, but cinnamon, clove, cardamom, etc… are all there, layered on top of the more delicate green tea aromas. The taste has more green tea than the nose, a little vegetal, a little grassy, and then the spice layers on top of that in a very nice way. It seems well balanced! Overall, I really like this, almost better than black chai teas…
Tea Nerd Details: 1 tsp for an 8 ounce cup, infused at 180° for 3 minutes.
Beer Nerd Musings: There are lots of beers that are explicitely called out as Chai-spiced, but there are probably plenty of Winter Warmers or Pumpkin beers that use a similar spice regimen as well. Some beers are even made with chai tea, though I don't think any use green chai tea, which is mildly interesting. In any case, one of the things I've noticed with flavored teas is that the leaves are often interspersed with actual spices, flowers, or peels, and I'm actually wondering what it'd be like to throw a hop pellet or two into the infuser when I make a cup of, for example, the Gunpowder green (not the chai one, as the spices would probably clash with the hops). The vegetal nature of green tea might match very well with the hops, and since we're only infusing for 3-4 minutes, we don't have to worry about bitterness or anything like that. We'd just, hopefully, get a pleasant hop aroma that would add complexity to the green tea without overpowering it or even feeling particularly weird. I… need to try this. I will make it happen this weekend.
In the final homestretch now, my triumphant return to beer will be this weekend. It will actually be a transition weekend, and you can expect a bourbon and beer double feature, with the beer having been aged in the bourbon barrels – most exciting! Otherwise, I've got some Single Estate black teas that I'd like to try this weekend, not to mention the hop tea experiment…