One of the goofy things about Scotch is that most of it is aged in old Bourbon barrels. This is partly a result of the large secondary barrel market that emerged from the legal definition of bourbon, but it also means that the whisky can sit in the barrels for much longer without getting over-oaked. Other barrels previously used for the likes of wine, sherry, rum, and other exotic fortified wines are also frequently used in Scotch production. As a result, there aren't many Scotches that are aged in new oak casks.
Enter Ardbeg, known for their intensely peat smoked whisky expressions and tricksy celtic naming conventions, they're a Kaedrin favorite. Their 10 year made me realize that I should just stop worrying and embrace the peat, while the Uigeadail remains a fascinating spin on the Ardbeg style that really grew on me as I worked my way through a bottle.
Corryvreckan, named after some famous whirlpool or such, was originally an Ardbeg Committee exclusive. The Ardbeg Committee seems to be roughly the Scotch equivalent of something like The Bruery's Reserve Society or, perhaps more relevant to me, Tired Hands' Believer's Club. Membership provides certain benefits, including exclusive bottlings, and so on. The Committee release of Corryvreckan was originally aged in first fill French oak, with some sort of wine cask finish (Bordeaux?) rumored. I should note at this point that exact details on the casks seem a bit sketchy, and I've seen various different descriptions around the internets, but I do know that it's always been an NAS whisky. Anywho, the Committee bottling was so successful that Ardbeg decided to bring it back as a regular offering, though the casks on this version seem to be a blend of new American oak and old Bourbon casks (again, conflicting reports of a Burgundy wine component as well). This is what I have here, so let's take a look: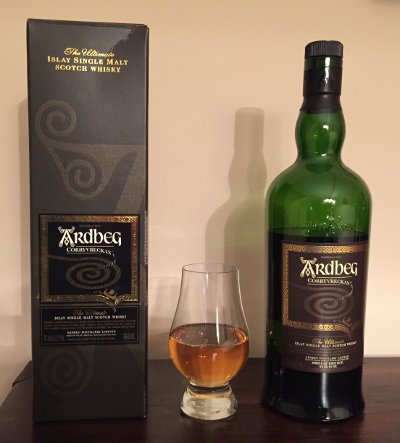 Ardbeg Corryvreckan – Pours a deep golden yellow color with some pretty mean legs. Smells of peat and light smoke that's been mellowed out by some vanilla, maybe even some toffee or caramel peek through, with some peppery spice added in for fun. When I first opened the bottle, I was a little disappointed as it seemed like the nose would sorta clam up over time, getting less and less interesting as it went on. For whatever reason, it seems to be holding up well right now, and it's actually a pretty fantastic nose. That new oak comes through well, I think. Taste features lots of peat, more tar and smoke than the nose implied, almost meaty, some of that peppery spice, followed in the long finish by booze and peat smoke. It's certainly Ardbeg through and through, but the peaty smoke feels a bit less prominent here than it does in the other expressions I've had. Like the nose, when I first opened the bottle it seemed to fall off with time, but it seems pretty great right now (perhaps it's just my beer baby palate, not used to the cask strength ABV). My guess: This is a NAS whisky, but I'm thinking it's very young… Mouthfeel is big and burly, viscous, coats your mouth pretty well, long finish, very hot (as usual, take into account my beer baby palate). A little water smooths it out some, but it also reduces the impact of the nose (which is still quite nice). Overall, it makes for another great spin on the classic Ardbeg character, and the 10 year, Uigeadail, and Corryvreckan are a great core trio in their lineup. Uigeadail seems to be the favorite, but I have to say that I might still be more in the bag for the 10 year. Go figure. Still, the new oak component of this is really nice, and it's well worth trying
Whisky Nerd Details: 57.1% ABV bottled (750 ml, about 2/3 left). Drank out of a Glencairn glass on 3/28/14. Bottle Code: L14 048 11:13 6ML (basically, it's an early 2014 bottle – see full breakdown of bottle codes here)
Beer Nerd Musings: In last year's review of Uigeadail, I mentioned one of the biggest surprises I've had with beer in Yeastie Boys' most excellent peat-malt-based Rex Attitude, a beer I've not seen around much since I initially procured that bottle (let alone the doubled version XeRRex, which I'd love to try someday). There are plenty of beers aged in old Ardbeg casks, but Islay casks and beer tend to have a contentious relationship. Even big, burly stouts will sometimes wilt when faced with the awesome power of peat smoked whisky. That being said, I might take a flier on an Ardbeg barrel aged beer at some point, just to see what's up. Perhaps low expectations will yield a more favorable result.
So there you have it. I was more of a bourbon man this year than last year and I think this will end up being the only Scotch I get to during this temporary detour from beer (which, excitingly, is fit to end this weekend). Up next, more tea, and next week, we'll finish off the non-beer stuff with another bourbon and perhaps even more tea. Not sure what's next for me on the Scotch front. Ardbeg does some specialty bottlings and one-offs, but I feel like I should probably venture out to some other Islay distilleries. I recently tried some Lagavulin 16, which was fantastic, and some Laphroig 10, which was cromulent, but not particularly special. I'll have to see what I can get my greedy paws on the next time I head down to State Line Liquors (who seem to have the best selection around here)…