I've been enjoying the Pizza Boy bottles that have slowly been making their way to the Philly area, but so far, I've not had a chance to try any of Pizza Boy's most famous beers, whichare, in general, their sours. They are quite pricey, but so far, they seem worth it.
Enter the Golden Sour, a svelt 3.7% ABV ale aged in white wine barrels with lemon zest. According to Stouts and Stilettos, they asked the brewer and "found out it's a blend of Cantillon, Fantome & Drie Fonteinen cultures." Damn. Go big, or go home, I guess. And hoo boy, did this go big: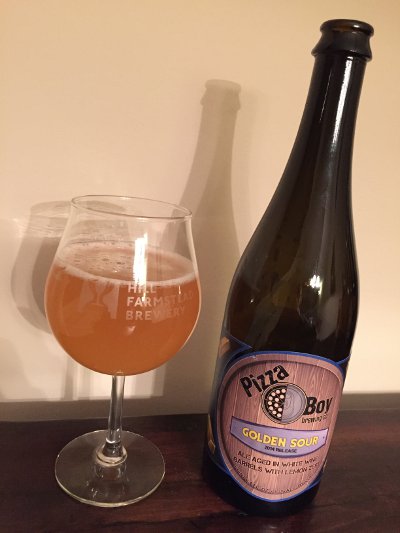 Pizza Boy Golden Sour – Pours a cloudy golden color with visible sediment and a finger of bubbly head that recedes to a cap. Smells great, tart fruit, lemons, musky funk, pleasant barnyard, and oak. The taste starts very sweet, quickly hits a high sour note with lemons and vinous fruit, a little funk, then retreats into oak before a finish which sorta ties all the flavor components together. Great balance between sweet fruit, sourness, and oak. Mouthfeel is light, crisp, and refreshing, well carbonated with moderate acidity, it's still quite crushable. I will say, this does not feel like 3.7% at all – not that sours need a high abv to pack a punch, but usually when it's this low, there's some degree of thinness or something. Not so here. It's either labeled wrong or really impressive (and I'm inclined to think the latter). Overall, this is fantastic, no questions. A
Beer Nerd Details: 3.7% ABV bottled (750 ml caged and corked). Drank out of a Charente glass on 1/30/15. 2014 Release.
So I've got something called Future Primitive that appears to be brewed at Pizza Boy, but is under an Intangible Ales label. Don't know what's up there, but mayhap I'll dig into that next time…