Alrighty folks, you know the drill: Every year, Firestone Walker invites their neighboring Winemakers to the brewery to tie one on and blend a series of barrel aged component beers for their Anniversary Ale. I'm trying to be concise here because if you've been paying attention, you'd know that I've written about this whole process in wonky, exhaustive detail before, not to mention delving into individual component beers with some regularity. Needless to say, I'm a fan.
The results can be quite different from year to year. XV was more barleywineish (and it was spectacular), XVI was a little more evenly matched between barleywines and darker stouts and the like (and alas, it was a far cry from XV). Last year's XVII returned to the realm of barleywine pretty successfully (and did better than XVI, but never quite reached the heights of XV). This year, Firestone goes to the dark side:
38% Parabola (13% ABV) Russian Imperial Oatmeal Stout. Aged in Bourbon Barrels.
16% Helldorado (11.7% ABV) Blonde Barley Wine. Aged in Bourbon and Brandy Barrels.
16% Bravo (12.9% ABV) Imperial Brown Ale. Aged in Bourbon and Brandy Barrels.
14% Stickee Monkee (12.3% ABV) English Barley Wine. Aged in Bourbon and Brandy barrels.
5% Velvet Merkin (8.5% ABV) Traditional Oatmeal Stout. Aged in Bourbon barrels.
4% Hydra Cuveè (10.5% ABV) Blend of Flying Dog Gonzo and FW Wookey Jack (both stainless), Double DBA and Bravo (both aged in Bourbon barrels).
3% Wookey Jack (8.3% ABV) Black Rye India Pale Ale. 100% Stainless Steel
2% Ol' Leghorn (12.5% ABV) English Barley Wine, Collaboration with Three Floyds. Aged in New American Oak.
2% Double Jack (9.5% ABV) Double India Pale Ale. Aged in Stainless Steel.
Lots of unusual things (at least, when compared to the last few vintages). First up, 38% of Parabola is the single highest component I've seen yet, and when you add up stout-like components, you get about 59% (perhaps 66%, depending on how you consider Wookey Jack or Hydra Cuveè), with about a third of the blend hitting barleywine territory. Perhaps making up for the disproportionate amount of Parabola is that this features 5 components with 5% or less of the final blend. Heck, that Hydra Cuveè is only 4% and it's already a blend of 4 beers. This blend has the most components of any previous vintage I've tried and it's also the darkest and most stout-like version since XIII (which I have, sadly, never tried). The good news here is that all this weirdness basically translates to the best vintage since XV.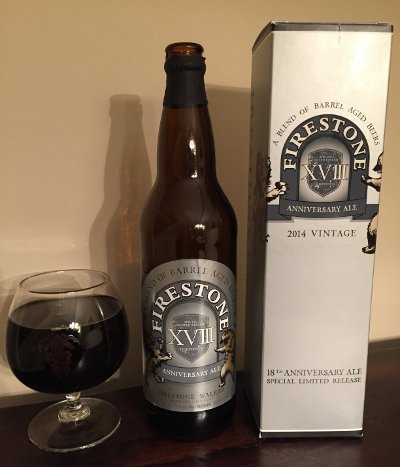 Firestone Walker XVIII – Anniversary Ale – Pours a black color with almost no head, just a very small ring around the edge of the glass. Smells fantastic, caramel, oak, vanilla, bourbon, a hint of roast, and some dark fruit. The taste is Parabola up front, caramel, bourbon, oak, and vanilla with a bit of roast, followed by a more bourbon barrel barleywine-like dark fruit and toffee in the finish. Really delicious, lots of complexity that keeps emerging as it warms up. Mouthfeel is full bodied, rich, and chewy, well carbonated, just a little sticky, with a bit of boozy heat. Well balanced though, and as it warms, it gets even better. Overall, spectacular and delicious, best vintage since XV and maybe even better. A
Beer Nerd Details: 13% ABV bottled (22 ounce boxed bomber). Drank out of a snifter on 1/23/15. 2014 vintage.
I really can't get enough of Firestone's barrel aging program. Really looking forward to snagging some Sucaba and Parabola this year, and whatever other specialties make their way around (apparently Helldorado is coming to bottles this year, replacing DDBA).