I've recently mentioned that Tired Hands bottle releases can be a bit of a bear. In contrast, Forest & Main's bottle releases are lower key affairs. People still line up, and in some cases (Marius releases), the bottles sell out quickly. In the case of Moeder Seizoen though, the release was on Saturday, and I managed to snag my allotment on Sunday. Why this bottle hung around for that long, I do not know, as it was pretty fantastic (I suppose putting it in smaller 375 ml bottles increased the yield from last year's batch, but still).
Also of note, I have finally secured some Forest & Main glassware. They never seem to have any whenever I go, so it's a hard fought win for me. Not going to call this a white whale or even a khaki wale or anything, but it's a cool glass. Yippee ki yay, Mother Saison: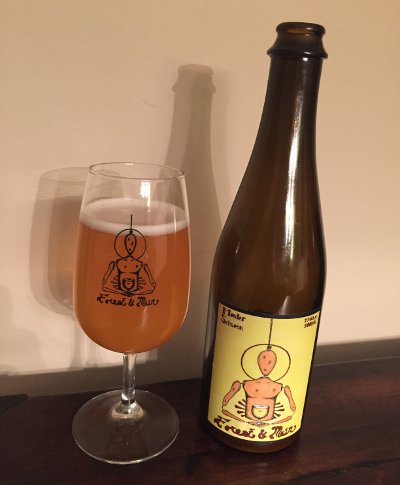 Forest & Main Moeder Seizoen – Pours a slightly hazy golden yellow color with a finger of white head. Smells of vinous fruit, tart fruit, a little oak and vanilla, very nice. Tastes of sweet vinous fruit, grapes and the like, a bit of sourness, and a heaping helping of oak and vanilla. Mouthfeel is medium bodied, full carbonation, and a fair amount of acidity from the sourness. Overall, this is fantastic, probably my favorite Forest & Main beer yet, delcious and complex. A-
Beer Nerd Details: 7% ABV bottled (375 ml capped). Drank out of a Moeder Saison flute glass on 2/6/15. Bottled on Nov 20, 2014. Released 1/30/15. Batch 2.
I say this every time, but I need to get up there more often. It's a solid place.