Hey guys, guess what? I only drank one beer on Saturday night. Of course, it was 750 ml of 18.9% ABV barrel aged stout, so maybe that's not as moderate as it sounds. Or something.
We've all got our hobbies, and while I obsess over beer, Hangar 24's founder and brewer, Ben Cook, likes to fly him some airplanes. The brewery is named after a particular hangar at a local airfield (guess which hanger?), a place where Cook and his buddies used to hang out, talk planes, and drink beer. He got bit by the homebrew bug and eventually opened him up a brewery, right across from the airfield. They put out your standard range of IPAs and wheat beers and whatnot, but they're most famous for their Barrel Roll series of barrel aged beers.
Each is named after a complex aerial maneuver (and indeed, the Barrel Roll is itself a maneuver), and their most popular offering is named after Pugachev's Cobra, a dramatic tactic in which the pilot suddenly moves the nose of the airplane into a vertical position (and even a bit further), then returns to normal, level flying. Check it out in action. I'm sure some aviation nerd will say I'm wrong about this because of this or that subtle difference, but I'm pretty sure this is what Maverick does in Top Gun. Hit the brakes and he'll fly right by…
The beer is a big Russian Imperial Stout brewed with maple syrup and aged in Bourbon barrels for 8 months. As noted above, the most recent batch seems particularly monstrous, clocking in at a hefty 18.9% ABV (significantly higher than any previous batch). This puts it in Black Tuesday territory, which is fine by me, since that's a fantastic beer. Talk to me, Goose: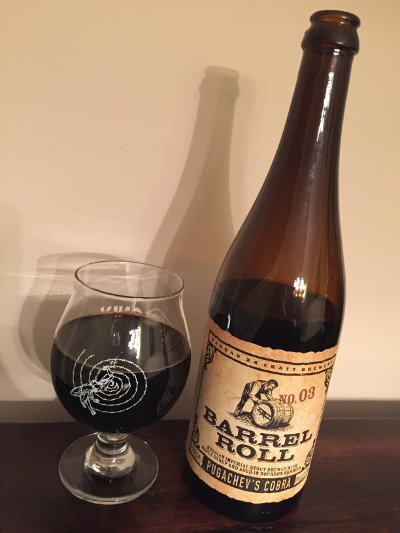 Hangar 24 Barrel Roll No. 3 Pugachev's Cobra – Pours a very dark brown color with minimal head, a little lighter and less substantial looking than your typical imperial stout, but still nearly black. Smells absolutely fantastic, big rich caramel, maple syrup, bourbon, oak, and vanilla, hints of marshmallow and coconut if you really want to look for them. And you will, because this is one superb nose. Taste follows similar lines, lots of rich caramel up front, marshmallow, that maple syrup, maybe even a little of that roast in the middle, and a hugely boozy crash of bourbon, oak, and vanilla towards the finish. As it warms, it feels like the booze mellows out some and a little roast and char emerges, tying it together and adding an element of complexity. That or I'm just getting shitfaced over here (probably both!) While not quite as monstrous as it may seem on paper, the mouthfeel is full bodied, rich, and chewy, reasonably carbonated, and very, very hot. That's very much a matter of taste, but I have no problem with overly boozy beer, so I say bring that shit on. Also, it doesn't seem as hot once it warms up a bit. In fact, I found it going down surprisingly quick and had to deliberately pace myself. Overall, this is one crazy beer, and I kinda love it. A-
Beer Nerd Details: 18.9% ABV bottled (750 ml caged and corked). Drank out of a snifter on 2/7/15. Vintage: December 2014. Bottle # 112/11220.
So yes, I want more of this. Would be really curious to see how some of the milder batches taste. You know, the ones that only hit 15 or 16% ABV. Also, there are lots of Pugachev's variants out there, most of which sound rather awesome. And what they hey, I'd like to try other Barrel Roll beers while I'm at it. Alas, these are not particularly easy for me to get, so don't hold your breath.