The conventional beer nerd line about lambic seems to indicate that only Cantillon and Drie Fonteinen are worth buying. That may be unfair (both make wonderful beer), but try finding a bottle of either that is not absurdly overpriced at a bar (and they'll make you open it at the bar too – no takeout). I would also put Guezerie Tilquin in that upper tier and I'm pretty sure that the only reason it's not is that people are so sick of overpaying for Cantillon and 3F that they don't want to acknowledge Tilquin's greatness, least they fly off the shelves, never be to seen again. Because I have, like, three regular readers, I have the luxury of not worrying about such things.
Regardless, the notion that only those three brands are worth checking out is patently ridiculous. It's true that most anything you get from them will be fantastic and worth the stretch (and even worth, sometimes, the price gouging you get at restaurants), but there's a pretty reliable second tier of lambic producers that are worth seeking out. Think Boon's Marriage Parfait line or Girardin's Black Label, amongst others. Oud Beersel certainly fits that mold as well.
Perhaps one thing that holds these breweries back a bit is that they put out younger, blander versions of their beer (with fruited varieties relying more on syrupy adjuncts than actual fruit). Boon's Marriage Parfait Gueuze is fantastic, but their regular gueuze doesn't quite stand up to the big guys (the Marriage Parfait tends to incorporate more 3 year old lambic into their blend than the regular). The blending process is key, and indeed, Drie Fonteinen still gets a significant portion of their wort from Boon (I'm pretty sure they are gradually decreasing their dependency on Boon and have expanding their own brewing operations, but it's pretty clear that the difference is aging and blending). Oud Beersel has a similar line of younger lambics and a line of "Vieille" lambics which seem to incorporate more mature stocks into the blend. While I wouldn't put this up there with Cantillon's fruited sours, it's still a pretty darn solid Kriek: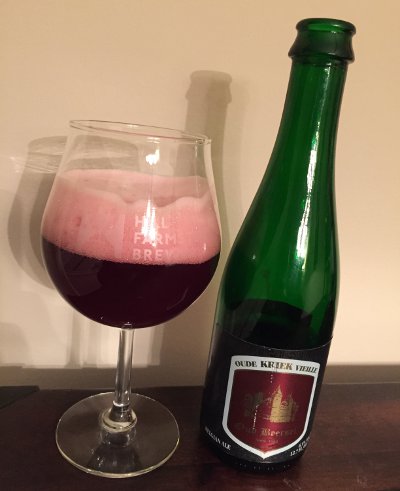 Oud Beersel Oude Kriek Vieille – Pours a striking ruby red color with tons of fluffy pink head. Seriously, that image doesn't quite capture the striking appearance of this beer… I shall endeavor to take better pictures (I know, I'm the worst.) Smells of tart cherries, oak, and some dusty, musty funk – definitely a different house character than the other lambics I've had. Taste hits with tart, jammy fruit up front, moves quickly into some oak, that dusty, earthy funk in the middle, and a quick quick sour kick in the finish. When cold, its got sharp edges, but it smooths out a little as it warms. Mouthfeel is highly carbonated, dry up front but sticky in the finish, not as much oak as expected, but it gets fuller as it warms. Overall, a nice cherry lambic, certainly not top tier, but perhaps top of the middle tier… B+
Beer Nerd Details: 6.5% ABV bottled (375 ml caged and corked). Drank out of a Charente glass on 11/29/14. Best Before: 18.04.2032.
Not bad for a brewery that's been operating since 1882 (with a brief blip about a decade ago where it was ownerless), at this point I'd certainly like to check out their Oude Gueuze Vieille