I was going to just make a Royale With Cheese joke and whine about the metric system, but as with the beer itself, DDB beat me to it by a few years. Instead I'll have to rely on pedantic translation backgrounding, like Sang Royal being French for "Royal Blood" and how popular it is to pretend that a given grape-based beverage is blood. Indeed, we're about the celebrate the birth of the guy who popularized the concept in just a few days.
The last couple Cascade beers I've had wound up being a little disappointing. The Vine, another grape-based beer, was fine I guess, but not as sour or oaky as I've come to expect from Cascade (It tasted more like a tripel dosed with grape juice than a funky sour). The Blueberry had a slight case of the Smoketômes, which was clearly not doing it any favors. Given the expense of acquiring these bottles, I wasn't sure if this would be worth the stretch, but it's one of their better regarded beers (which is saying something) and it's not like I haven't had some great beers from them, so I rolled the dice and I'm glad I did.
So what makes this one so special? Well, it's a blend of red ales that have been aged in wine (depending on where you look, these are Pinot Noir or Cabernet Sauvignon barrels) and Port barrels for up to 20 months on Cabernet Sauvignon grapes. It clocks in at a rather hefty 10.12% ABV, which I usually view as a little too high for a sour. Something about high alcohol and high acidity is hard to get right, but I'll be damned if Cascade didn't figure it out. This ain't a gulper, to be sure, but it's phenomenal: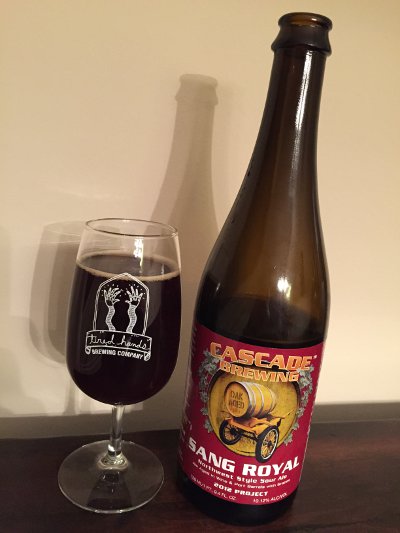 Cascade Sang Royal – Pours a dark ruby red color, almost brown, with half a finger of off white head that quickly resolves into a ring around the edge of the glass. Smells fantastic, vinous fruit, sour cherries, vinegar, a little oak and vanilla. Taste is very sweet, lots of dark vinous fruit, sour cherries, tannins, plenty of oak and vanilla and a pretty bracing sourness throughout, but especially in the finish. As it warms, more funky, earthy notes emerge, tobacco and leather come out and mesh well with the sour fruit. Mouthfeel is rich and full bodied, that oak really contributes here, moreso than most 10+% ABV sours, a pleasant vinegar acidity too. Overall, yep, pretty fantastic here. A
Beer Nerd Details: 10.12% ABV bottled (750 ml caged and corked). Drank out of a flute glass on 12/19/14. Vintage: 2012 Project.
So Cascade certainly came through on this one. I'm sure opinions vary on the $25+ price tag, but it is phenomenal beer. A few more Cascades in the Kaedrin pipeline, including Bourbonic Plague and Figaro, coming early next year.