This collaboration between Deschutes and Hair of the Dog is aptly named, and is thus pretty complicated, so stay frosty. It's a blend of four different beers: Deschutes' The Dissident (a Flanders Oud Bruin) and The Stoic (a rather light colored take on an Quadrupel), and Hair of the Dog's Fred (from that nebulous American Strong Ale style) and Adam (an old ale). So that's a lot of stuff to combine, but then take the result and age in a variety of barrels. And I do mean a variety: Rye Whiskey, Cognac, Sherry, Pinot Noir, Bourbon, new American Oak, and new Oregon Oak. Naturally, the beer is finished off with another blending exercise, this time with all the results from the barrels. So get out your scrapbooks and prepare your embellishments, it's time to drink a collage.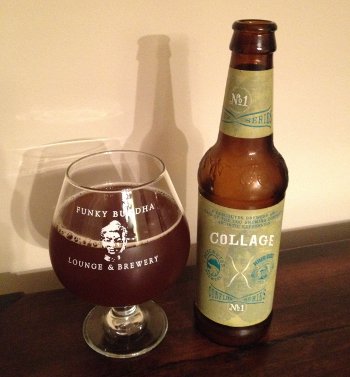 Deschutes and Hair of the Dog Collage – Conflux No. 1 – Pours a very dark amber color, almost brown, with half a finger of light head. Smells of dark fruits, oak, vanilla, but also an unexpected vinegar note (I did not realize that The Dissident was a sour when I cracked this open and recorded my initial notes). Not necessarily a bad thing, I just didn't realize this was going to be a sour. The taste is quite complex, lots of varied fruits, cherry, grapefruit and the like, rich caramel, toffee, a certain mustiness, leather, spice, oak, vanilla, bourbon, vinous notes, wine, and other boozy notes with the sourness picking up towards the finish but not in an overpowering way. As it warms, those sour notes do start to become more prominent, but it's still part of a whole, rather than a really defining characteristic. Mouthfeel is well carbonated, rich, chewy, full bodied, and just a bit of acidity from the souring aspects. Overall, this is incredibly complex, I keep picking out new notes as I drink, even if it perhaps doesn't come together into a unified whole, it is still a fascinating beer that I would gladly try again. B+
Beer Nerd Details: 11.6% ABV bottled (12 oz). Drank out of a snifter on 8/30/14. Bottled: 4/30/12. Best After: 4/30/13.
Hey look, I finally managed to drink a barrel aged Deschutes beer after the Best After date. Of course, I only bought this beer a couple weeks ago, so it's apparently still available after two years. Not sure if my local beermonger was holding on to these and finally decided to let it fly, or if it's something Deschutes is still releasing… Whatever the case, I'm glad I got to try some.