So a couple years ago, the Lost Abbey started a series of beers inspired by rock music that was themed by heaven or hell (as befitting the Last Abbey's general brand). Each month, they released a new "track", a special edition beer available only at their tasting room and limited to just 450 bottles each. These are exactly the sort of beers that an east coast dork like myself could never dream of acquiring. But at the end of the year, Lost Abbey did a "Box Set" of all the beers, and some seemed popular enough to brew again.
As far as I'm aware, this is the only one that was made again, and it's received pretty broad distribution (so I'm guessing significantly more than 450 bottles this time around). This takes their Judgment Day, a Belgian Quad made with raisins, and ages it in Bourbon barrels along with cinnamon and chile peppers. The result was one of the more popular tracks in the series. Why it's got the subtitle of The Number of the Beast (why wouldn't that be track #6?), I don't know, but it's got a nice story about how Damien was tricked into writing the number of the beast onto his gradeschool chalk board. It's all for you, Damien. Or in this case, the beer is all for me: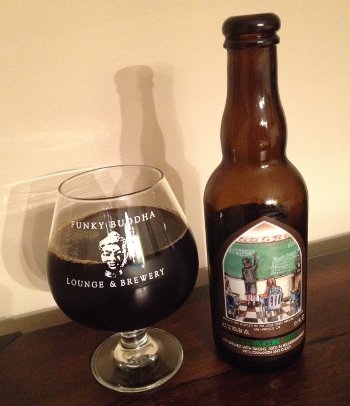 Lost Abbey Track #8 – Number Of The Beast – Pours a deep, dark brown color with half a finger of fizzy tan head. Smells of bourbon, oak, and vanilla along with some dark fruits, raisons and the like, and just a bit of Belgian yeast spice. As it warms up, you get more sorta Christmas spice character, cinnamon and the like. Taste is very sweet, with some nice fruity esters, dark fruits, raisins and the like, spicy phenols, maybe some of that cinnamon, rich caramel, bourbon, oak, and vanilla. As it warms, the spicy chile emerges a bit, but it's just enough to add complexity and never threatens to overwhelm or knock anything out of balance. Mouthfeel is highly carbonated, rich, full bodied, a little sticky as it warms up. I've found that Belgian styles have mixed success when barrel aged, but this works very well. Overall, this is among the better barrel aged Belgian quads I've ever had, rich and complex, well worth seeking out. A-
Beer Nerd Details: 13.7% ABV bottled (375 ml caged and corked). Drank out of a snifter on 8/23/14. Vintage: 2014.
Yet another winner from Lost Abbey. Someday, I'll need to get around to trying Cuvee De Tomme or Duck Duck Gooze, but until then… I'll just have to deal with all this other beer I have laying around.