The Bruery's Anniversary beers hold a certain sentimental value for us Kaedrinians, and as such, they've become a much anticipated annual tradition. We're just bananas for this stuff. Like the previous couple batches, this is a massive Old Ale style beer, aged in Bourbon barrels and blended using the Solera method. The names of each anniversary brew correspond to the French translation of the traditional wedding anniversary gifts. Last year's was Bois, and it was fantastic. This year's is Sucré, which means Sugar (or probably more likely, Candy).
Those who are familiar with The Bruery's low attenuation, high ABV barrel aged brews will know that Sucré is particularly apt for this brew, as it's is indeed quite sweet and sugary. Not to mention boozy. The previous iterations have all been in the 14.5% to 15% ABV, but this one clocks in at a whopping 16.9% ABV. I'm not sure what they did differently this year, but that's quite a bump from last year, and you can really tell, even if it's still a fabulous brew that I really enjoyed.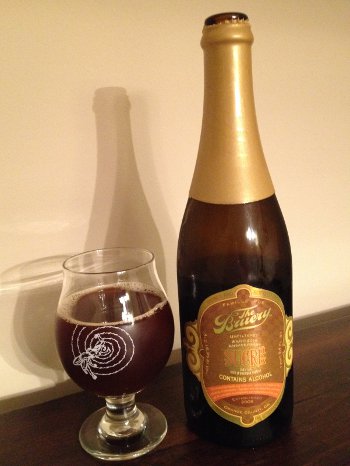 The Bruery Sucré – Pours a murky brown color with a finger of off white head. Smells fantastic, sugary, lots of boozy bourbon, oak, and vanilla, a little bit of dark fruits. The taste is rich and sugary, with the typical Bruery barrel treatment taking over quickly, lots of bourbon, oak, and vanilla, very boozy but not super hot. The dark fruits are there, but take a back seat to the booze and bourbon. As it warms, it seems to even itself out a bit. That or I was just getting shitfaced. Mouthfeel is full bodied, rich, and chewy, with a big boozy bite that's almost spicy. Overall, this is another fantastic brew in the series, more intense than previous versions, though perhaps not quite as harmonious right now. I'm betting the aging potential is high though. A-
Beer Nerd Details: 16.9% ABV bottled (750 ml capped and waxed). Drank out of a tulip glass on 6/21/14. Bottled 2/25/14.
If you've had any of The Bruery's Bourbon barrel aged stuff, you sorta know what you're in for here. I plan on grabbing another of these bottles for my cellar, just because I have one for every year since Cuir (3rd Anniversary). Speaking of which, I never drank that Cuir, which I should totally get around to at some point. Of course, I only have the normal, 25% BBA version, but we can't all be Bruery Hoarder ballers, can we?