The Icon Series is Texas brewer Saint Arnold's experimental line, a chance to try one off beers unlike the normal stuff they make. This particular entry in that series is difficult to pin down. The beer itself says its a saison, and Ratebeer agrees. Beer Advocate calls it a Bière de Garde, which isn't entirely inaccurate (it is a more malt-forward take on a farmhouse ale). The label itself sez it combines "the richness of a winter ale" with a saison yeast, which is probably the best description yet. Personally, I found myself thinking "Dubbel" whilst imbibing, though that's not entirely correct either. I'll just settle on dark saison because it's not like this sort of style dysphoria hasn't struck before. And I kinda love that about saisons.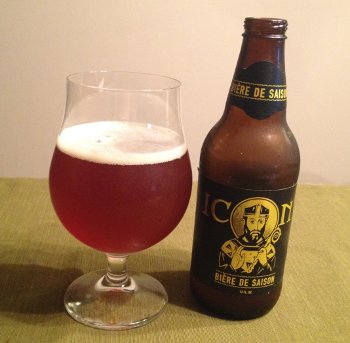 Saint Arnold Icon Series: Bière De Saison – Pours a cloudy dark amber color with nice highlights at the edge of the glass, visible sediment, and a finger of head. Not your typical saison appearance, but then, it's also not that unusual. The nose is all Belgian yeast, leaning more towards the fruity banana esters than the spicy clove phenols. The taste has an ample malt presence, dark candi sugar, lots of that fruity Belgian yeast and some spice too. As it warms, the spice comes through more. It smells and tastes more akin to a dubbel or quadrupel than a saison (or a Bière De Garde), though it's not quite in full bore Belgian strong dark territory either. It's an interesting middle-ground this beer has discovered. Mouthfeel is medium to full bodied, well carbonated, a little spicy, and just a hint of sticky booze. Overall, this is a really nice malt and yeast forward Belgian beer, somewhere between a strong saison and a dubbel. B+
Beer Nerd Details: 9% ABV bottled (12 oz.) Drank out of a tulip glass on 5/16/14.
So I've had 3 Saint Arnold beers, each of which rated a B+ in my book, which is enough to make me wish they actually distributed up here, though I apparently have no problem getting unsolicited bottles in trades and BIFs and whatnot…