Last Friday was International Stout Day, so I opened a rare saison, because here at Kaedrin HQ, every day is saison day.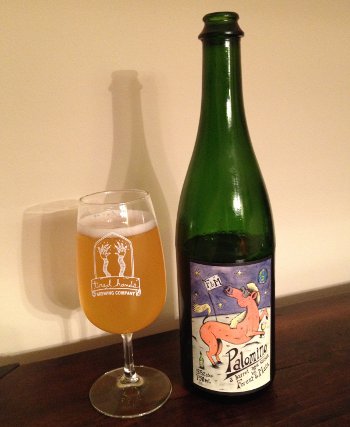 Forest & Main Palomino – A saison brewed with local honey and aged in old wine barrels. Pours a hazy straw yellow color with a finger of white head and decent retention. The nose is all funk, all the time. Earthy Brett with a fruity sour note. Taste is more earthy and spicy than the nose, though a slight tart fruit character emerges towards the finish, along with a fair amount of bitterness. Mouthfeel is dry, but highly carbonated and effervescent, crisp, refreshing, with just a hint of lactic acidity. Overall, really solid stuff, better than Solaire Reserve, but perhaps not quite a top tier facemelter. B+ (borderline A- stuff though)
Beer Nerd Details: 5.5% ABV bottled (750 ml capped). Drank out of a flute glass on 11/8/13. Bottle no. 50 of 204. Bottled July 20, 2013.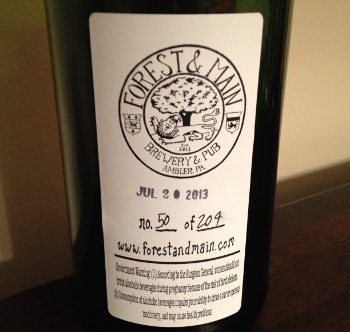 Another solid brew from the local Forest & Main, hopefully many more to come.
Oh, and I did manage to drink a stout on stout day, a fresh bottle of DuClaw Retribution. I didn't love it much last time, but that was an old bottle. The fresh one was better and certainly enjoyable, but still nowhere near a world beater.