Once upon a time, there were these wonderous drinking establishments called "Public Houses" or, as they're more commonly known "pubs". The proprietors of said establishments were known as "publicans". I'm sure that any British readers would scoff at the notion of American "pubs", but there are a few of them worth their salt here in the US. Indeed, they're a growing concern these days. However, it wasn't that long ago that such establishments were a rarity. True publicans of the day were isolated and lonely. But when American beer bar pioneers like David Keene (of SF's Toronado) or Tom Peters and Fergus Carey (of Philly's beloved Monk's Cafe) found out about each other back in the day, they decided to form a group of publicans (I'm leaving a bunch of them out here, there were several other founding members) that would get together for some libations and maybe even collaborate with breweries to make "outrageous" beers. Thus was born the Publican National Committee, or PNC for short.
This beer is one such collaboration. Apparently "concocted over a copious amount of Orval" one night, this is an Imperial Buckwheat Stout aged in Tequila barrels for 13 months. It was one of the components for Firestone Walker's XVI Anniversary blend, but has since been bottled all on its own. It didn't quite get the release of their other component brews and it wasn't really distributed, but since the aforementioned Tom Peters and Fergus Carey are publicans over at Philadelphia's own Monk's Cafe and founding members of the PNC, they got a few bottles, which I manged to snap up (along with some other tasty treats). Let's see what's up, shall we: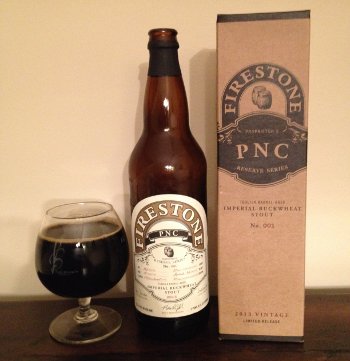 Firestone Walker PNC Imperial Buckwheat Stout – Pours a very dark brown color with half a finger of tan head. Smells of rich caramel, toffee, oak, vanilla, and booze (presumably that tequila coming through, though it's not a dominant aroma at all, well rounded). Taste follows the nose, rich caramel, toffee, and lots of oak and vanilla. Faint hints of roast show up as it warms. The booze is there too, but it's not nearly as dominant as I thought it would be (this is a good thing though), and the tequila matches up well with the stout base. I wouldn't be surprised to learn that this involved some other barrels too, like retired Firestone Union barrels or even Bourbon barrels. All of Firestone Walker's barrel aged brews share a certain profile, and this one is no exception, despite the use of Tequila barrels that give it a unique spin. Mouthfeel is full bodied, rich, and chewy, well carbonated, and this is where that booze really shows itself (again, in a good way). Faint hint of hot booze in the finish and that warming sensation in my belly. Overall, maybe not quite the revelation of Parabola, but still superb in its own right. A-
Beer Nerd Details: 13.7% ABV bottled (22 oz bomber). Drank out of a snifter on 11/2/13. 2013 Vintage. Cases: 450.
Another delicious barrel aged treat from Firestone Walker. Still waiting for Velvet Merkin to show itself in the area. The hunt is on. Stay tuned.