The fine folks at Spring House must be big fans of Hanna-Barbera, as this beer's title is derived from an obscure and short-lived 60s cartoon called Wacky Races. The show pitted eleven different racing teams against one another in a series of road rallies in order to award the title of "World's Wackiest Racer." The Gruesome Twosome are modeled after Frankenstein (Big Gruesome) and Dracula (Little Gruesome) and they drive a hearse-like car called the Creepy Coupe. It's got a belfry on it. Of course.
If you look closely at the label of this beer, I think both of the Gruesome Twosome are represented, though they don't quite look like the actual cartoon characters. Anywho, befitting Big Gruesome's Frankensteinian origins, Spring House decided to brew a big, lurching stout using all sorts of wacky ingredients: chocolate malts, raw cacao nibs, vanilla beans, more cacao nibs, a human brain marked "abnormal"*, and, of course, peanut butter**. Does all this tomfoolery really work? Let's find out, shall we?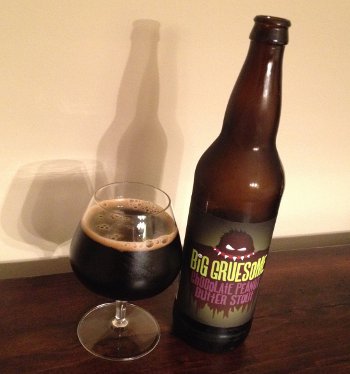 Spring House Big Gruesome Chocolate Peanut Butter Stout – Pours a very dark brown color with a finger of light brown head. Smells of coffee, chocolate and just a whisper of peanut butter. Taste follows along with lots of coffee, a little chocolate, and just a hint of that peanut butter. Given the kitchen sink approach to ingredients, I was expecting a much sloppier affair, but it actually came out rather well balanced. Mouthfeel is on the upper end of medium bodied, with a nice richness and appropriate carbonation. Overall, a very interesting beer, not quite as gimmicky as you might think, really quite a nice stout, with some added complexity from all those other ingredients. Well done! B+
Beer Nerd Details: 8.5% ABV bottled (22 oz. bomber). Drank out of a snifter on 10/5/13.
Spring House also makes something called Lil' Gruesome Peanut Butter Jelly Stout, which isn't as strong as Big Gruesome, but clearly has just as much wacky crap going on. I most certainly need to get off my butt and visit Spring House sometime, so stay tuned… Might even want to do it in October, as it seems like those fine folks really get into the spirit of the season (actually, it seems like their branding is Halloween-like all year round, good on them!)
* Allegedly. By me. So basically, not true at all.
** Not sure what it is about peanut butter beers, but there seems to be a rash of them gaining popularity of late. Heck, even I had that Rogue Voodoo abomination recently, but that's barely worth mentioning. Everyone around here won't stop talking about Sweet Baby Jesus! though, and it's certainly a fine beer with a strong peanut butter kick. And by everyone, I mean this one I guy I was talking to the other day. So basically, just ignore this. That's why I put it in a footnote.